Qualified Solutions for QuickTrack certification
November 3rd, 2022 by The Beacon
Wi-Fi Alliance® offers three tracks for a product to become Wi-Fi CERTIFIED™: FlexTrack, Derivative, and QuickTrack. QuickTrack is a simpler, lower cost option to attain Wi-Fi CERTIFIED status where companies build products using Qualified Solutions.
Qualified Solutions are modules, chipsets, and other solutions that have already had Wi-Fi® functionality tested. They meet industry-agreed quality standards for Wi-Fi and are ready to be incorporated into a member company's end product — such as a smartphone or smart thermostat. Once the member company designs a product using a Qualified Solution, they can become a Member Conformance Test Laboratory (MCTL) and perform the QuickTrack testing themselves or send it away to an Authorized Test Laboratory (ATL). Because QuickTrack testing is less complex and less costly than traditional certification testing, member companies can achieve faster time to market while trusting that their end product is based on a high-quality foundation. Members can find more information about becoming a Qualified Solution Provider here.
Qualified Solutions may use QuickTrack testing to attain Wi-Fi CERTIFIED status for the following certifications:
Espressif's Qualified Solution powers IoT products across multiple industries
As an example of a Qualified Solution that is available to end-product developers for QuickTrack testing for Wi-Fi certification, Espressif's ESP32-C2 chip — also known as the Wi-Fi & Bluetooth Internet of Things Module — is built for a variety of Internet of Things (IoT) products, offering simple, high volume, and low data rate solutions in automotive, healthcare, education, and more. It has a unique design and small package, which allows it to deliver fewer unwanted electrical effects and enhanced radiofrequency performance.
Espressif said regarding their experience as a Solution Provider: "It was very positive and straightforward, with support from Wi-Fi Alliance at each step." Because Espressif's customers can use trusted core Wi-Fi components early in the production process, Espressif expects to increase its overall influence in the market. Read the full case study here.
Qualified Solutions available for QuickTrack testing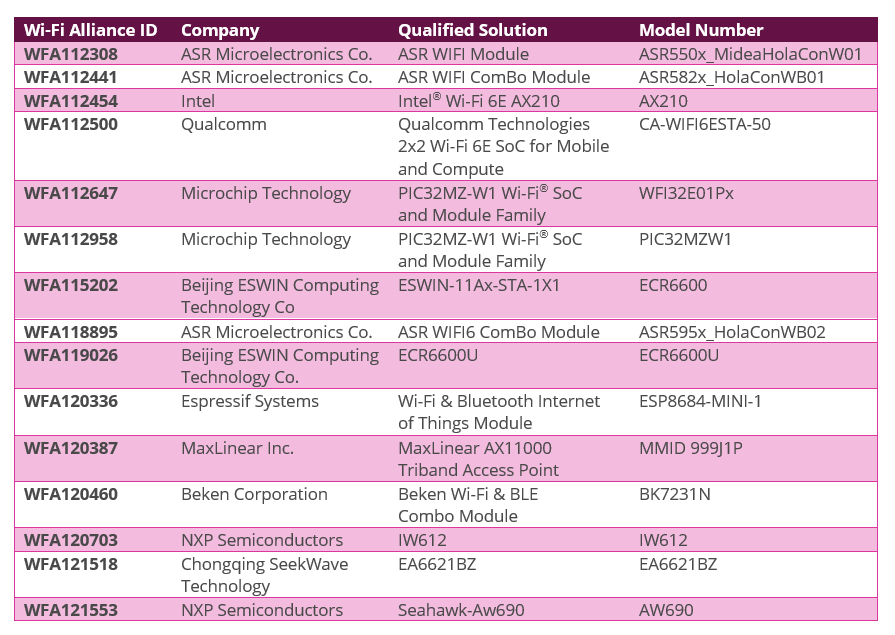 The Beacon
Follow The Beacon at: