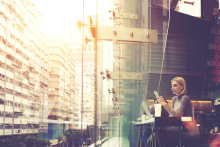 The arrival of Wi-Fi CERTIFIED 6® ushers in an era of advanced Wi-Fi® technology that meets the growing needs of a demanding global population. The increase in Wi-Fi devices and dependence upon Wi-Fi has made it a necessity of everyday life. During the past two decades, technological advancements have enabled the industry to provide better user experiences with each Wi-Fi generation, while using a limited amount of unlicensed spectrum.
Every generation of Wi-Fi aims to increase capacity and throughput in dense environments, extend network range, and reduce power consumption to meet user expectations for existing and emerging uses.
Wi-Fi's strengths of affordable performance, efficient operation in unlicensed spectrum, commitment to security, ease of use, self-deployment, and long-term compatibility provide a basis for fulfilling advanced connectivity use cases.
Wi-Fi Alliance® has created a number of certification programs to support a variety of advanced connectivity scenarios, including those requiring high bandwidth and low latency, while enabling increased performance, longer range, and power efficiency. This includes Internet of Things (IoT) environments from the smart home to industrial and manufacturing plants. Wi-Fi Alliance supports key advanced connectivity uses through these certification programs:
Wi-Fi CERTIFIED 6®: The latest generation of Wi-Fi connectivity, Wi-Fi CERTIFIED 6 is based on IEEE 802.11ax standard and brings increased capacity and efficiency along with faster speeds than previous technologies in the 2.4 GHz and 5 GHz bands. Increased range, better performance in dense environments where many devices compete for bandwidth, and enhanced power efficiency for devices are characteristics of Wi-Fi CERTIFIED 6. Regulatory decisions granting Wi-Fi access in 6 GHz unlicensed spectrum further extend the benefits of Wi-Fi CERTIFIED 6 – with devices branded Wi-Fi 6E – into this new band. The addition of Wi-Fi 6E to Wi-Fi CERTIFIED 6 certification secures Wi-Fi innovation and positive experiences for years to come.
Wi-Fi CERTIFIED HaLow™: Wi-Fi HaLow™ provides the long range and low power needed to support IoT applications in industrial and manufacturing environments, as well as smart homes. Wi-Fi HaLow extends Wi-Fi into sub-1 GHz bands, enabling the low power connectivity necessary for applications including sensors, personal wearable devices, utility meters, and thermostats that require multi-year battery operation.
Wi-Fi CERTIFIED Vantage™: Bringing streamlined Wi-Fi connectivity to managed Wi-Fi networks in transportation hubs, stadiums, shopping malls, and more enables users to remain connected and productive on the go. Wi-Fi Vantage™ networks combine high performance connectivity, network intelligence, and smoother transitions as users traverse the wider network, including from Wi-Fi to cellular networks.
Wi-Fi CERTIFIED WiGig™: Providing multi-gigabit speeds in the 60 GHz band, WiGig® enables a host of high bandwidth uses. The potential for applications such as augmented and virtual reality (AR/VR) and services such as ultra high-definition (Ultra HD) streaming are being realized through WiGig.
Wi-Fi CERTIFIED WPA3™: Advanced Wi-Fi security, WPA3™, provides cutting-edge security protocols. WPA3 simplifies Wi-Fi security, enables more robust authentication, delivers increased cryptographic strength, and maintains resiliency of mission critical networks.