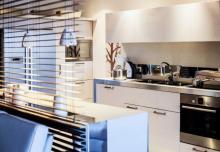 Wi-Fi Protected Setup™ is an optional certification program based on technology designed to ease the setup of security-enabled Wi-Fi® networks in home and small office environments. Wi-Fi Protected Setup supports methods (pushing a button or entering a PIN) that are familiar to most consumers to configure a network and enable security.
Like all Wi-Fi CERTIFIED™ products, Wi-Fi Protected Setup products have industry-standard security features provided by Wi-Fi Protected Access®. Wi-Fi Protected Setup gives consumers an easier approach to set up a security-protected Wi-Fi connection, either between devices or in a network configuration. Additional devices can be easily added to a Wi-Fi Protected Setup network over time.
With Wi-Fi technology connecting a wider array of devices, a simpler, standardized, approach to network configuration and security enablement is crucial. Wi-Fi consumers are able to choose from a wide variety of product types and brands knowing that there is a straightforward method for adding these devices to their network.