What are IoT and IIoT?
The Internet of Things (IoT) devices read sensors and exchange data over the internet. Long battery life and seamless internet connectivity are necessary for these systems' reliable deployment and maintenance.
Making decisions at the edge of the network where the information is collected improves decision latencies. Machine learning algorithms are run on these devices to make complex decisions. IoT devices on the network edge are known as IoT edge devices.
Wireless security cameras like Arlo, Ring, Blink, and Nest also have started to fall into this category. These devices wake up at fixed intervals or when triggered to improve battery life.

Industrial Internet of Things (IIoT) devices are IoT devices built for distributed industrial control systems. Along with industrial markets comes the need for better security, ease of mass deployment, reliability, and redundancy.
Wi-Fi is the most convenient way for IoT devices to connect to the internet. As shown in the above diagram, the bulk of time a device consumes power from the battery is for communicating with the server. The newer Wi-Fi standards, like Wi-Fi CERTIFIED 6™, can reduce the time an IoT device spends awake for communications.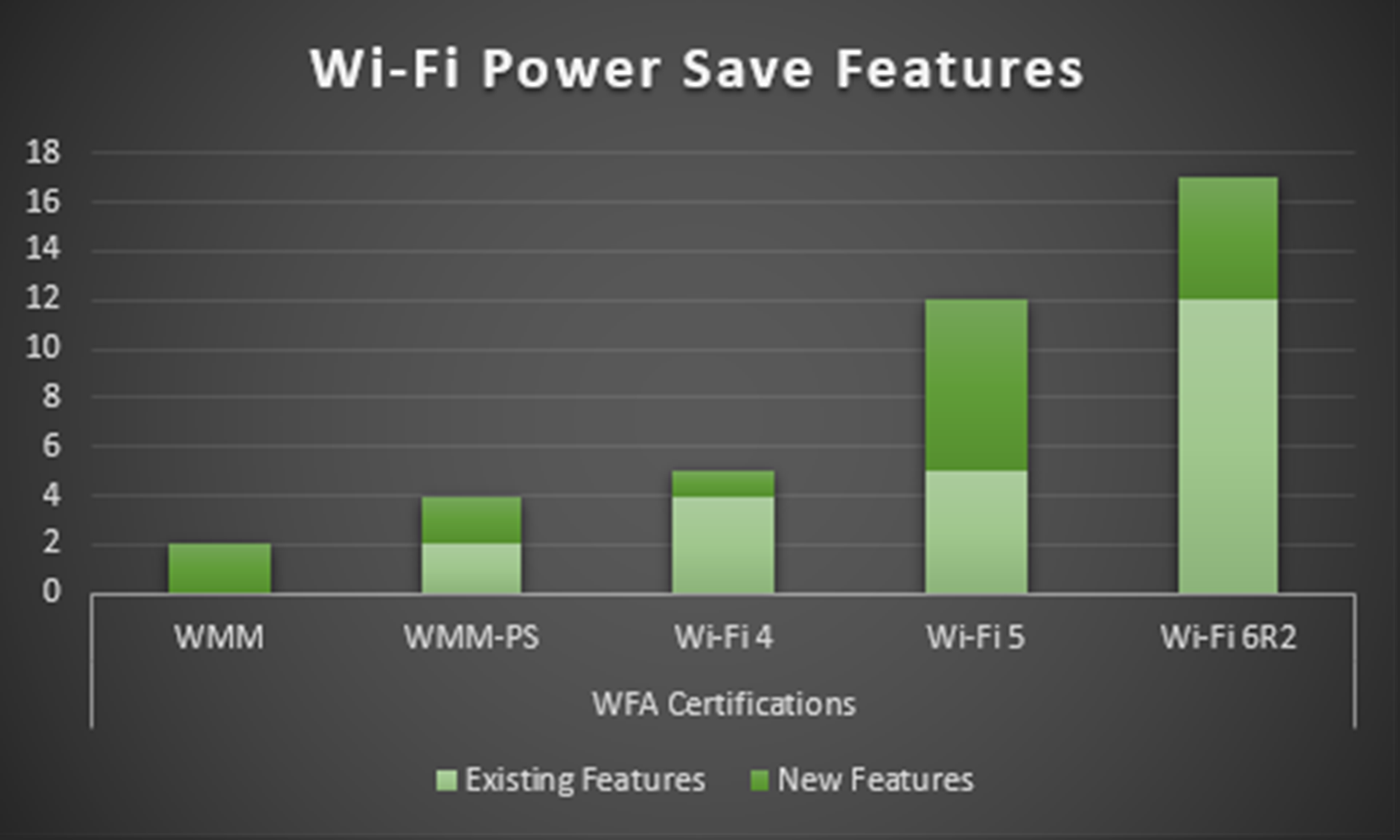 The following features, available in Wi-Fi CERTIFIED 6 Release 2, provide benefits especially suited for IoT devices.
Spatial Multiplexing Power Save (SMPS)
Multiple input, multiple output (MIMO), introduced in Wi-Fi 4, supports multiple spatial streams by integrating multiple transmitter and receiver chains. This improved the power efficiency of the Wi-Fi subsystems. SMPS is an elegant way to turn off the unnecessary chains to match the transmission streams, thereby reducing the power consumption of IoT devices.
Dynamic SMPS
Introduced in Wi-Fi CERTIFIED 6 Release 2, dynamic SMPS enables turning on and off receiver chains much more rapidly, offering better power savings. The data transmission sequence starts as a single spatial stream and Request to Send/Clear to Send (RTS/CTS). After receiving the packet, the addressed station (STA) goes to maximum capability. The IoT device that this is not addressed to goes into sleep mode.
20 MHz Station (20 MHz STA)
Wi-Fi 6 introduced 20 MHz STA, a power-saving device category for IoT devices. A typical channel has eight slices, and depending on need, pieces are assigned to IoT devices. Devices benefit from less contention, longer battery life, and lower latency.
In technical terms, a 20 MHz channel using orthogonal frequency-division multiplexing (OFDM) technology has 242 tones or useful subcarriers. They are sub-divided into smaller groups called Resource Units (RUs). The RU can be as small as 26 tones. The access point (AP) can now assign these smaller RU concurrently to IoT devices needing only a small bandwidth.
Broadcast target wake time (TWT)
The AP creates wake-up schedule groups and lets IoT devices join them. It is helpful in broadcast traffic scenarios and helps the IoT devices sleep between Wi-Fi transactions, conserving battery life, achieving low latency, and improving airtime efficiency.
Basic Service Set (BSS) Max Idle period
An IoT device associated with an AP must wake up to receive a Delivery Traffic Indication Message (DTIM) for beacons and group transmissions before the AP declares it a bad connection and disassociates. The BSS Max Idle feature permits an IoT device to doze for up to 80 hours, increasing the timeout for inactive connections and improving battery life.
Wi-Fi CERTIFIED 6 delivers IoT and IIoT advantages
Wi-Fi CERTIFIED 6 Release 2 aggregates the best in power-saving features. Its technological features position Wi-Fi CERTIFIED 6 Release 2 as a powerful support to IoT and IIoT devices and services - reduced wake time for IoT devices, less contention, longer battery life, and lower latency. Wi-Fi CERTIFIED 6 Release 2 provides numerous advantages to the worlds of IoT and IIoT.
The statements and opinions by each Wi-Fi Alliance member and those providing comments are theirs alone, and do not reflect the opinions or views of Wi-Fi Alliance or any other member. Wi-Fi Alliance is not responsible for the accuracy of any of the information provided by any member in posting to or commenting on this blog. Concerns should be directed to info@wi-fi.org.