Wi-Fi CERTIFIED 6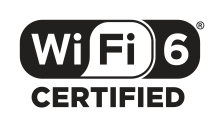 Capacity, efficiency, and performance for advanced connectivity
Wi-Fi CERTIFIED 6®, the industry certification program based on the IEEE 802.11ax standard, provides the capacity, efficiency, coverage, and performance required by users today in the most demanding Wi-Fi® environments. Emphasizing quality connectivity in locations with hundreds or thousands of connected devices such as stadiums and other public venues, as well as corporate networks utilizing time sensitive, high bandwidth applications, Wi-Fi CERTIFIED 6 networks ensure each connected device performs at an optimum level. Wi-Fi CERTIFIED 6 devices meet the highest standards for security and interoperability, and enable lower battery consumption, making it a solid choice for any environment, including the Internet of Things (IoT).
Key benefits of Wi-Fi CERTIFIED 6 technology include:
Higher data rates
Increased capacity
Performance in environments with many connected devices
Improved power efficiency
Wi-Fi CERTIFIED 6 provides the foundation for a host of current and emerging uses from streaming ultra high-definition movies, to mission-critical business applications requiring high bandwidth and low latency, to staying connected and productive while traversing large, congested networks in airports and train stations.
Wi-Fi 6E extends Wi-Fi CERTIFIED 6 into 6 GHz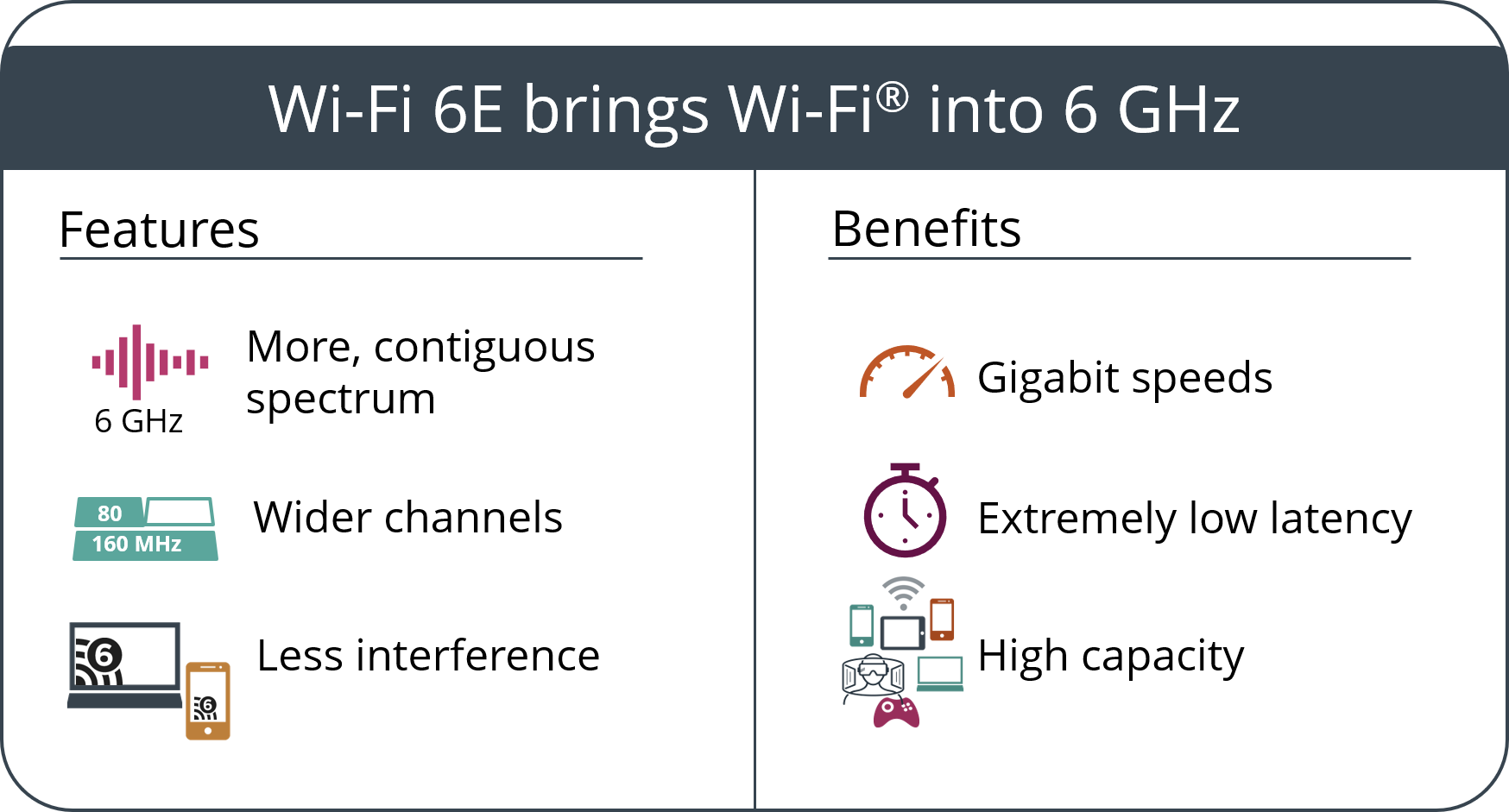 Wi-Fi operation in the 6 GHz frequency band enables Wi-Fi to continue delivering positive experiences for the most bandwidth intensive applications. Wi-Fi 6E certification as part of Wi-Fi CERTIFIED 6 offers the features and capabilities of Wi-Fi 6, extended to the 6 GHz band. Several nations around the globe are making the 6 GHz band available for unlicensed use, and Wi-Fi CERTIFIED 6 provides worldwide interoperability certification for devices in these markets.
Wi-Fi 6E can utilize up to 14 additional 80 MHz channels or seven additional superwide 160 MHz channels in 6 GHz for applications such as high-definition video streaming and virtual reality. Wi-Fi 6E devices leverage these wider channels and additional capacity to deliver greater network performance and support more Wi-Fi users at once, even in very dense and congested environments. Wi-Fi 6E will bring greater technology advancements in Wi-Fi that will introduce new use cases, such as unified communications, cloud computing, and telepresence, and accelerate the next generation connectivity with 5G networks.
Wi-Fi 6E and incumbent devices
Wi-Fi Alliance seeks global harmonization of 6 GHz spectrum so that Wi-Fi devices can perform in 6 GHz spectrum anywhere in the world. To achieve this goal, it is important that Wi-Fi and incumbent devices utilizing the 6 GHz band coexist.
Wi-Fi Alliance is leading the development of specifications and test plans that can help ensure that standard power Wi-Fi devices operate in 6 GHz spectrum under favorable conditions, avoiding interference with incumbent devices. To support this, the U.S. Federal Communications Commission (FCC) established a requirement for an Automated Frequency Coordination (AFC) system, which is being considered by other regulatory agencies, to ensure consistent experiences with Wi-Fi 6E devices. Wi-Fi Alliance development efforts on this innovative system are ongoing, with the aim of ensuring the worldwide adoption, interoperability, security, and reliability expected of Wi-Fi.
AFC Test Harness is a software platform originally developed by Wi-Fi Alliance to interact with a 6 GHz standard power device using interfaces defined in the AFC System to Device Interface Specification. The AFC Test Harness simulates behavior of an AFC System and is used to automate procedures described in the AFC DUT Compliance Test Plan for 6 GHz standard power devices for compliance with regulatory requirements established by National Regulatory Authorities (NRA). However, Wi-Fi Alliance makes no representation regarding the ability to employ 6 GHz standard power devices that are deemed acceptable using the software and test plan under any NRA; authority for operation may be separately required by the NRA.
For more information on AFC development, download the specification, test plan, reference model, and AFC Test Harness software.
Innovation and performance in challenging environments
The ubiquity of Wi-Fi and its ability to complement other wireless technologies helps bring the promise of connecting everyone and everything, everywhere, closer to reality. Wi-Fi popularity has also created very diverse and densely populated Wi-Fi conditions, requiring technological advances to meet the needs of users. Wi-Fi CERTIFIED 6 delivers improvements and new features that enable Wi-Fi devices to operate efficiently in the most dense and dynamic connectivity settings.
Key capabilities:
Orthogonal frequency division multiple access (OFDMA) effectively shares channels to increase network efficiency and lower latency for both uplink and downlink traffic in high demand environments
Multi-user multiple input, multiple output (multi-user MIMO) allows more data to be transferred at one time, enabling access points (APs) to concurrently handle more devices
160 MHz channel utilization capability increases bandwidth to deliver greater performance with low latency
Target wake time (TWT) significantly improves network efficiency and device battery life, including IoT devices
1024 quadrature amplitude modulation mode (1024-QAM) increases throughput for emerging, bandwidth intensive uses by encoding more data in the same amount of spectrum
Transmit beamforming enables higher data rates at a given range to increase network capacity
Wi-Fi CERTIFIED 6 devices bring enhanced performance to emerging applications such as virtual and augmented reality used in e-Learning, telepresence, and healthcare. Wi-Fi CERTIFIED 6 also provides carriers and public Wi-Fi operators with more capabilities to support advanced connectivity in retail, stadiums, and transportation hubs, including a growing array of location-based applications and services.
Wi-Fi 6E: Expanding Wi-Fi into 6 GHz spectrum

FCC remarks from Ajit Pai, Chairman

What Wi-Fi trends are expected in 2020?

Wi-Fi 6 at CES 2019
Wi-Fi Alliance Policy Newsletters
Asset Packages (Highlights, Infographic, Quote Card)
Wi-Fi Alliance Member Publications