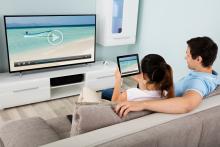 High-definition content sharing on
Wi-Fi® devices everywhere
Wi-Fi CERTIFIED Miracast™ enables seamless display of multimedia content between Miracast® devices. Miracast allows users to wirelessly share multimedia, including high-resolution pictures and high-definition (HD) video content between Wi-Fi devices, even if a Wi-Fi network is not available.
Miracast:
Projects content from mobile devices to automobile infotainment systems
Shares a laptop screen with a conference room projector in real-time
Streams HD and 4K Ultra HD movies from a tablet to an HD television
Shows pictures from a smartphone, computer, or tablet to a large screen television
Support a wide range of audio/video formats to extend battery life in mobile devices
Miracast also supports premium content—such as Blu-ray feature films, live television shows and sports, and other copy-protected premium content—allowing you to watch what you want, where you want.
Standards-based Miracast advances life without wires
Miracast is an industry-wide solution, allowing technology to work across device types and vendors. Connections are easy to set up and use since Miracast devices choose the appropriate settings automatically. Miracast can connect two devices using network infrastructure or Wi-Fi Direct®. When content to be shared is stored on a Miracast-certified device, such as a smartphone to an automobile infotainment display, a Wi-Fi network connection is not required.
Only devices marked Wi-Fi CERTIFIED Miracast have been certified by Wi-Fi Alliance® to work well with other Wi-Fi CERTIFIED™ devices, employ the latest security protections, and deliver a high-quality user experience.