Internet of Things
Wi-Fi® is an essential IoT enabler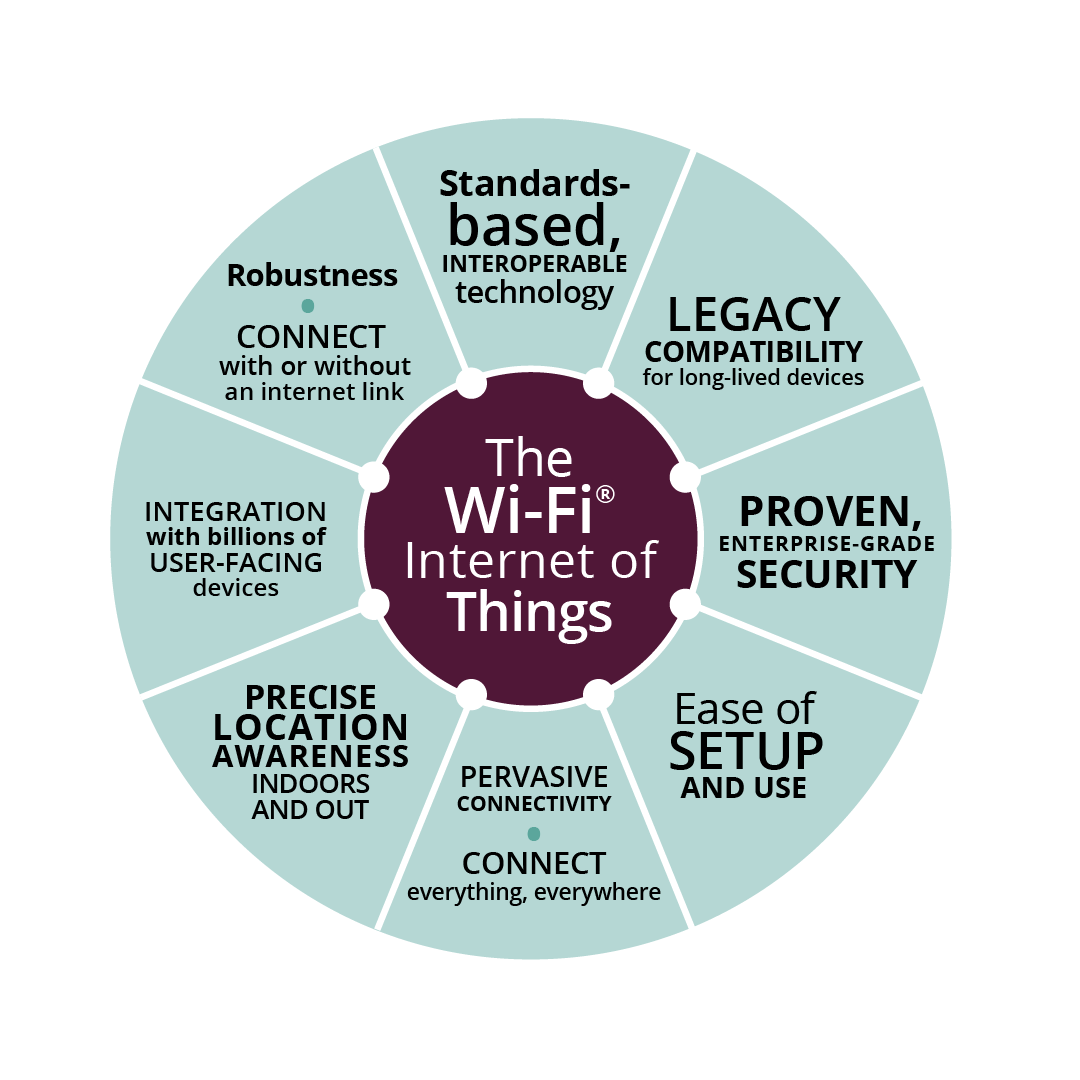 Wi-Fi has played a foundational role in delivering IoT innovation, providing pervasive connectivity to connect a wide variety of "things" to each other, to the internet, and to 18 billion Wi-Fi devices in use around the world. The economic potential of the Internet of Things is boundless, and Wi-Fi delivers a vast range of opportunities across a variety of sectors including smart homes, automotive, healthcare, enterprise, government, and industrial IoT environments.
Wi-Fi enables users to automate their smart homes and connect a wide variety of connected household objects, monitor supply chains and other critical functions in real time in industrial facilities, and unlock business value by increasing productivity and efficiencies for both enterprises and hybrid-work scenarios. Integration and interoperability delivered by Wi-Fi will enable IoT solutions to interconnect to one another and to billions of user-centric devices to unlock the greatest value from IoT applications and environments.
Wi-Fi delivers pervasive IoT connectivity
Wi-Fi is one of the most widely used technologies around the world, and integration with existing Wi-Fi networks and a strong legacy of interoperability make it an obvious choice to unlock the greatest value from IoT. Wi-Fi is a dominant IoT connectivity technology and its inherent strengths have enabled proliferation across most IoT environments. Several unique competencies that uniquely position Wi-Fi to drive the IoT market forward include:
Standards-based, interoperable technology: The promise of IoT is founded on a wide range of device makers and service providers. Wi-Fi provides a common platform to support a wide variety of IoT applications that vary in power and latency requirements and delivers confidence that billions of devices will connect regardless of product brand.
Legacy compatibility: IoT innovation continues at a rapid pace, but longevity of the devices is a strong consideration when deploying devices. Today's Wi-Fi is backwards compatible with previous Wi-Fi generations, meaning that new IoT devices in an environment will interoperate with existing devices and older devices will not need to be replaced when a network upgrade occurs.
Proven WPA3™ security: Sensitive government, industrial, and personal information is exchanged through IoT applications. The latest Wi-Fi generations deliver strong, enterprise-grade security to protect information in personal and enterprise environments, and choosing Wi-Fi CERTIFIED™ ensures IoT devices support the latest, cutting-edge WPA3 security protocols.
Ease of setup and use: Wi-Fi is relied on every day, providing a well-loved and familiar connectivity method for users and enterprises connecting IoT devices, as well as a well-known, easy-to-deploy network foundation. Over the years, Wi-Fi continues to evolve to simplify device pairing, network authentication, and more.
Location awareness: Wi-Fi Location™ delivers meter-level, precise location information that allows a range of location-aware IoT services, and provides benefits to manufacturers, enterprise, retail and healthcare markets through asset management, network management, and geo-fencing.
Integration with 18 billion user-facing devices: IoT systems will require strong integration with smartphones, tablets, and other Wi-Fi devices in use today. 18 billion Wi-Fi devices are in use around the world, providing a strong foundation for connecting the IoT.
Robust device-to-device connectivity: Wi-Fi is reliable and robust, even in disaster scenarios, and provides connectivity in emergencies for mission-critical devices when internet access is disrupted. Wi-Fi allows device-to-device connectivity at ranges up to 200 meters.
Wi-Fi's evolving portfolio includes several technologies that are advancing IoT innovation, while delivering security, interoperability, and integration with billions of Wi-Fi CERTIFIED IoT devices used worldwide. Wi-Fi CERTIFIED HaLow™ meets the unique requirements for IoT by delivering long-range, low-power Wi-Fi that enables a variety of use cases in industrial, agricultural, smart building, and smart city environments.
Wi-Fi CERTIFIED 6™ delivers capacity, efficiency, coverage, and performance to provide the foundation for a host of current and future IoT use cases. Wi-Fi CERTIFIED Easy Connect™ reduces complexity and enhances the user experience of connecting devices to Wi-Fi networks – including many smart home and IoT devices with little or no user interface while simultaneously incorporating the highest security standards. Wi-Fi CERTIFIED WPA3™ brings cutting-edge security protocols to users and enterprise to ensure sensitive IoT data remains secure.