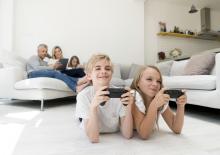 Multi-gigabit, low latency connectivity
Wi-Fi CERTIFIED WiGig™ expands the Wi-Fi® experience for virtual reality, multimedia streaming, gaming, wireless docking, and enterprise applications requiring high speed, data-intensive connections. WiGig® allows Wi-Fi devices to access the uncongested 60 GHz frequency band with wide channels to transmit data efficiently at multi-gigabit per second speeds. Users benefit from expanded capacity and focused transmission between devices to reduce interference, even in crowded environments.
Popular uses for WiGig products include:
Wireless docking between devices like smartphones, laptops, projectors, and tablets
Simultaneous streaming of multiple, ultra-high definition videos and movies
More immersive gaming, augmented reality and virtual reality experiences
Fast download of HD movies
Convenient public kiosk services
Easier handling of bandwidth intensive applications in the enterprise
Expanded, multi-band capacity
WiGig complements the dual-band capability of Wi-Fi CERTIFIED™ ac by enabling use of a third, less congested frequency band at 60 GHz. This increases Wi-Fi network capability, allowing for extremely high transmission speeds. Multi-band Wi-Fi CERTIFIED WiGig devices can provide continuous connectivity with seamless transfer between the 2.4, 5, or 60 GHz bands, resulting in a high quality Wi-Fi experience.