Wi-Fi CERTIFIED WiGig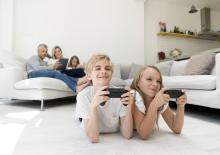 Multi-gigabit, low latency connectivity
Wi-Fi CERTIFIED WiGig™ expands the Wi-Fi® experience for virtual reality, multimedia streaming, gaming, wireless docking, and enterprise applications requiring high speed, data-intensive connections. WiGig® allows Wi-Fi devices to access the uncongested 60 GHz frequency band with wide channels to transmit data efficiently at multi-gigabit per second speeds. Users benefit from expanded capacity and focused transmission between devices to reduce interference, even in crowded environments.
Popular uses for WiGig products include: 
Wireless docking between devices like smartphones, laptops, projectors, and tablets
Simultaneous streaming of multiple, ultra-high definition videos and movies
More immersive gaming, augmented reality and virtual reality experiences
Fast download of HD movies
Convenient public kiosk services
Easier handling of bandwidth intensive applications in the enterprise
Expanded, multi-band capacity
WiGig complements the dual-band capability of Wi-Fi CERTIFIED™ ac by enabling use of a third, less congested frequency band at 60 GHz. This increases Wi-Fi network capability, allowing for extremely high transmission speeds. Multi-band Wi-Fi CERTIFIED WiGig devices can provide continuous connectivity with seamless transfer between the 2.4, 5, or 60 GHz bands, resulting in a high quality Wi-Fi experience.
Frequently Asked Questions
How does Wi-Fi Alliance help ensure product compatibility and a good user experience for certified products?

Compatibility and quality are achieved through testing of Wi-Fi products. Consumers should always look for the Wi-Fi CERTIFIED logo to ensure the best user experience possible.

Are Wi-Fi CERTIFIED WiGig devices multi-band?

The large majority of devices containing WiGig will be multi-band, combining support for the 2.4, 5, and 60 GHz frequency bands. Users can take advantage of more demanding applications and avoid interference from other devices using WiGig. Many devices will enable seamless transition across frequency bands.

Is WiGig for use in the enterprise?

Wi-Fi CERTIFIED WiGig devices improve wireless performance in the enterprise in the following ways:

Wireless docking, allowing employees to complete work from a multitude of devices without the burden of a wired connection
More efficient in-office networking, allowing for large file transfers and bandwidth-heavy applications to run seamlessly
Projecting graphics, and audio to a large screen in a conference room or auditorium with very low latency

What applications are enabled with Wi-Fi CERTIFIED WiGig?

Wi-Fi CERTIFIED WiGig handles today's most demanding applications, like virtual reality and augmented reality, providing a more immersive user experience.  Utilizing the 60 GHz band, WiGig can offload congestion in the Wi-Fi network. Devices within a WiGig connection range can:

Transfer an HD movie to a tablet in a few seconds
Play video and mobile games in device-to-device mode with no noticeable latency
Stream multiple HD quality videos at one time
Provide home theater experiences without wires

What advances are enabled by Wi-Fi CERTIFIED WiGig?

Wi-Fi CERTIFIED WiGig enables extremely high data rates, lower latency, and dynamic session transfer in multi-band devices. Products implementing the technology behind Wi-Fi CERTIFIED WiGig features are capable of multi-gigabit data rates up to 8 Gbps – nearly double that of devices implementing Wi-Fi CERTIFIED ac features.

Is WiGig available right now?

Yes, WiGig is available now. Search Wi-Fi CERTIFIED WiGig devices in our Product Finder.

How is WiGig different from Wi-Fi CERTIFIED ac or Wi-Fi CERTIFIED n?

WiGig is a complement to other WI-Fi CERTIFIED programs, enabling access to the 60 GHz frequency band for multi-band capability.

WiGig utilizes the 60 GHz radio frequency band, while 2.4 and 5 GHz frequency bands are utilized in and n implementations
WiGig provides a high throughput, low latency connection for devices within its range of operations
WiGig uses beamforming to reduce interference and increase capacity

Is Wi-Fi CERTIFIED WiGig interoperable with previous versions of Wi-Fi?

Yes, multi-band Wi-Fi CERTIFIED WiGig devices are interoperable with Wi-Fi CERTIFIED products operating in the 2.4 and 5 GHz frequency bands.