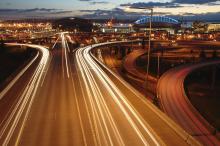 Wi-Fi CERTIFIED™ ac delivers up to multi-gigabit per second data rates, enabling devices to handle demanding applications such as Ultra HD and 4K video, multimedia streaming and rapid file transfer on tablets, gaming devices, handsets and many other devices. Based on IEEE 802.11ac, also referred to as Wi-Fi 5, Wi-Fi CERTIFIED ac devices offer higher capacity, improved power management, and lower latency to readily handle today's demanding applications.
Wi-Fi CERTIFIED ac provide higher-performance mobility experiences through multi-user multiple input multiple output (multi-user MIMO), wider channels, and support for four spatial streams.
Dual-band doubles network capacity
Wi-Fi CERTIFIED ac builds on the foundation of Wi-Fi CERTIFIED n and operates in 5 GHz, where devices can make use of increased bandwidth to achieve a higher data rate. Most Wi-Fi CERTIFIED ac products are dual-band, operating in both 2.4 GHz and 5 GHz. Wi-Fi CERTIFIED ac devices use the 5 GHz band, while Wi-Fi CERTIFIED n products use the 2.4 GHz frequency band. Dual-band networks double capacity, because devices can use the less crowded 5 GHz band for high performance applications, and the 2.4 GHz band for basic needs such as web surfing and Internet of Things (IoT) applications.
Enhanced power efficiency
With the Internet of Things era in full swing and the era of hyper-connectivity imminent, smaller devices are connecting to each other and to the internet. These devices require long battery life. Wi-Fi Alliance has introduced power saving features that enable devices to benefit from native connectivity to Wi-Fi networks and the internet without concern for power consumption. Wi-Fi power saving features bring longer sleep periods and reduce the need for devices to communicate with infrastructure too frequently. These features can add significant power saving in Wi-Fi enabled devices used in numerous market segments including smart home, smart city, industrial, and healthcare.