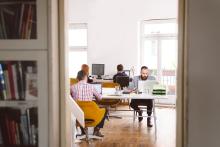 Better resource management for
Wi-Fi® networks
Wi-Fi CERTIFIED Agile Multiband™ facilitates better management of Wi-Fi network environments and enables Wi-Fi devices to better respond to changing Wi-Fi network conditions. Improved resource utilization helps balance Wi-Fi network load, increase capacity, and provide end users the best possible Wi-Fi experience. Client devices, such as mobile phones, smart TVs, and tablets, can exchange information with infrastructure devices to:
Apply intelligent access point (AP), band, and channel selection decisions
Avoid competition for resources within congested bands or APs
Minimize service interruption, even for demanding voice and video applications
Deliver a high-quality service regardless of changing Wi-Fi environment
Wi-Fi Agile Multiband™ facilitates efficient use of multiple frequency bands, including 2.4 gigahertz (GHz), 5 GHz, and 6 GHz, and includes mechanisms to better manage spectrum and network resources, balance network load, increase mobility, and provide the best possible user experience:
Dynamic network monitoring: APs and client devices continually exchange information about the current Wi-Fi network environment
Intelligent steering: APs suggest another AP, frequency band, or channel to client devices when the Wi-Fi environment becomes congested
Fast network transitions: Once a client device decides to roam to a different AP, band, or channel, the association and connection happen quickly and seamlessly
Standards-based technologies bring an intelligent approach and interoperability
Wi-Fi Agile Multiband is a standards-based technology that brings improved network management to devices across a variety of vendors.
IEEE 802.11k: enables APs and clients to exchange information about the Wi-Fi environment
IEEE 802.11v: uses network information to influence client roaming decisions and facilitate overall improvement of the network
IEEE 802.11u: allows client devices to gather information prior to connection to other networks
IEEE 802.11r: brings fast transition between APs within a Wi-Fi network (optional)
Wi-Fi Alliance-defined technologies: supplement information exchanged, identifies preferred channels, bands or APs to increase intelligent Wi-Fi network management
Wi-Fi Agile Multiband is a key component of Wi-Fi CERTIFIED Vantage™, a suite of technologies that drastically improve the user experience in managed networks. Wi-Fi Vantage™ devices layer the benefits of seamless light-touch authentication, with Wi-Fi Agile Multiband's better resource management, enterprise-level security, and high performance Wi-Fi to bring a better user experience in challenging network environments.