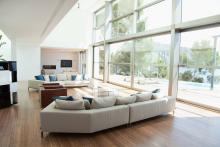 Full coverage, self-adapting Wi-Fi® networks
Wi-Fi CERTIFIED EasyMesh® brings a standards-based approach to Wi-Fi networks that utilize multiple access points (APs), combining the benefits of easy to use, self-adapting Wi-Fi with greater flexibility in device choice that comes with interoperable Wi-Fi CERTIFIED™ devices. Wi-Fi EasyMesh™ networks employ multiple access points that work together to form a unified network that provides smart, efficient Wi-Fi throughout the home and outdoor spaces.
Wi-Fi EasyMesh is very simple to install and use. Network setup and device onboarding involves minimal user intervention. Once established, the network self-monitors to ensure optimized performance. Leveraging mechanisms from Wi-Fi CERTIFIED Agile Multiband™, Wi-Fi EasyMesh can guide devices to the AP providing the best Wi-Fi service for that device. Wi-Fi EasyMesh networks can also modify the network's structure based on changing conditions to provide a consistent experience.
Wi-Fi EasyMesh brings these capabilities to home and small office Wi-Fi networks:
Increased network capacity: Supports more simultaneous services and higher realized throughput when operating in Wi-Fi 6 and Wi-Fi 6E
Flexible design: Allows for best placement of multiple APs providing extended coverage
Easy setup: Delivers seamless, secure device onboarding and configuration using QR codes through Wi-Fi Easy Connect technology
Network intelligence: Advanced diagnostics for Wi-Fi 6 capabilities through Wi-Fi Data Elements facilitate service provider support and responds to network conditions to maximize performance
Effective service prioritization and Quality of Service (QoS) support: Capability to prioritize low latency applications when needed and guides devices to roam to the best connection and avoid interference
Scalability: Enables addition of Wi-Fi EasyMesh APs from multiple vendors
Quality Wi-Fi without complication
The growth in connected devices and streaming services that rely on Wi-Fi connectivity in the home has resulted in the need for smarter Wi-Fi networks that provide extended, uniform coverage. Wi-Fi EasyMesh products benefit both consumers and service providers by delivering full coverage networks that intelligently manage resources with minimal user intervention. The technology is highly scalable, enabling users to easily add wireless APs where needed. Built on the promise of Wi-Fi CERTIFIED, Wi-Fi EasyMesh networks accommodate a greater selection of interoperable devices across brands.