Wi-Fi Alliance recently shared four Wi-Fi trends for 2022. Wi-Fi Alliance members also shared their predictions.
Wi-Fi Alliance® recently looked ahead at four Wi-Fi® trends expected in 2022. Among them were: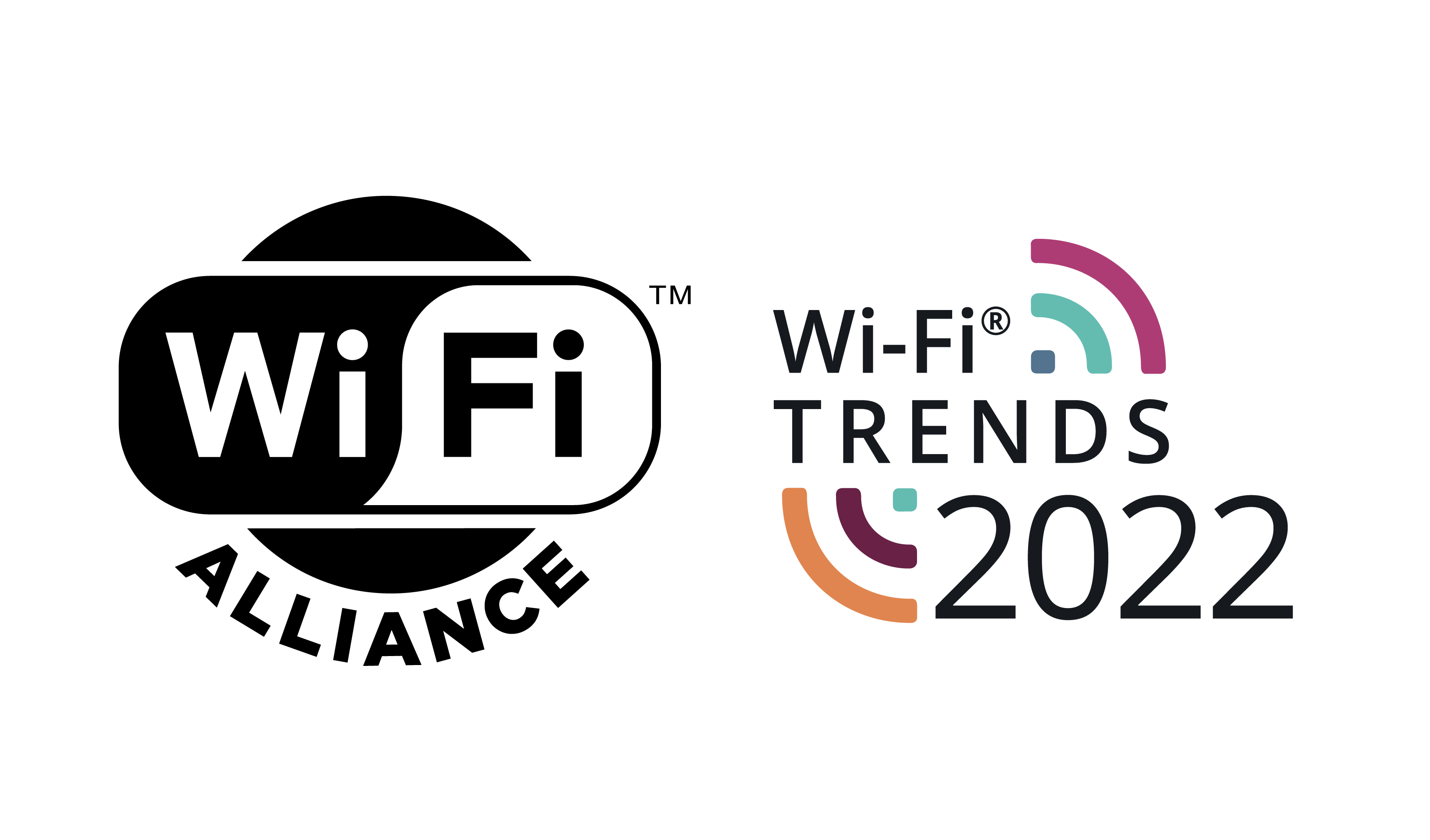 Furthering Wi-Fi 6 and Wi-Fi 6E adoption in homes and enterprises
Advancing Automated Frequency Coordination (AFC) framework
Wi-Fi meeting diverse Internet of Things (IoT) requirements
Wi-Fi networks reaching new optimization levels
Wi-Fi Alliance members including Airties, Aruba, ASSIA, Boingo Wireless, Broadcom Inc., CommScope, Extreme Networks, HFCL Limited, Intel Corporation, NetExperience, onsemi, and Qualcomm Technologies, Inc. shared their own 2022 Wi-Fi trends in a series of videos. The evolution of Wi-Fi 6 and Wi-Fi 6E came to the forefront of members' trends, as did the proliferation of Wi-Fi 6E products, and improved Wi-Fi CERTIFIED™ capabilities to better support remote work applications. 2022 will offer many rich opportunities for Wi-Fi as speeds increase, latency is reduced, and WPA3™ provides a secure foundation for all Wi-Fi CERTIFIED devices. Here are some of the areas where Wi-Fi Alliance members expect to see strong Wi-Fi momentum in 2022:
Wi-Fi 6E and AFC
Members expect that in 2022, more countries across the globe will continue to adopt the 6 GHz superhighway that Wi-Fi 6E is built upon. Extreme Networks believes that this "super highway" will provide a reliable path for further evolution of enterprise Wi-Fi, which is tied to the growth of Wi-Fi 6E mobile connectivity and IoT innovation. Intel predicts that improvements in Wi-Fi performance, determinism, and network health tools will help accelerate Wi-Fi 6 and Wi-Fi 6E adoption and enable great user experiences. The company noted "wireless performance improved significantly with the new spectrum and Wi-Fi 6E. In 2022, we're excited because we see a lot of innovation."
Aruba predicts that 2022 will be the year standard power Wi-Fi—or outdoor and higher power 6 GHz Wi-Fi—emerges. Standard power operates outdoors, at higher power, and in ruggedized radio products. The company expects the Federal Communications Commission will move forward with its approval process—supported by Wi-Fi Alliance work products—and anticipates that at least one global regulator will authorize standard power Wi-Fi in the new band before the end of the year. Aruba also expects we'll see the first field trials of standard power in outdoor stadiums, and a proliferation of already approved low power, indoor deployments.
Qualcomm expects Wi-Fi 6 and Wi-Fi 6E will make up a huge part of the market for Wi-Fi this year. "I think a lot of the good work by the entire industry and Qualcomm in 2021 has set up very nicely for that transition, including the rollout of the frequency coordination servers in the 6 GHz band," said Qualcomm. Broadcom also expects Wi-Fi 6E to take root in 2022, commenting that "companies and trade associations will come together to ensure that 6 GHz will perform better both indoors and outdoors with Automated Frequency Coordination."
NetExperience expects a greater reach for Wi-Fi 6 and Wi-Fi 6E, noting that lower CapEx and Opex for Wi-Fi will open new markets in developing nations that traditionally could not afford to deploy large scale Wi-Fi for their citizens, thereby closing the "digital divide" and further increasing the reach of the latest Wi-Fi technologies. onsemi sees 2022 as the year when 6 GHz helps establish Wi-Fi as the choice for "green" connectivity, noting that 6 GHz will not deal with the legacy devices, allowing for high efficiency and reduced power consumption. Combining Wi-Fi enhancements and different power modes with rapidly increasing Wi-Fi 6E shipments and a growing installed base make Wi-Fi the environmentally friendly choice.
Wi-Fi 6E products
Intel believes that the demand for products supporting the latest Wi-Fi technologies has increased dramatically and the additional benefits enabled by new 6 GHz spectrum in more regions will help continue to grow this footprint. Broadcom agrees we will see a variety of new Wi-Fi 6E products, such as Wi-Fi 6E phones across price points, TVs, and virtual reality glasses all in 2022. CommScope predicts that users will truly start taking advantage of Wi-Fi 6E as devices emerge and bring new applications allowing for more deterministic Wi-Fi and mesh networks in homes. Boingo Wireless forecasts that Wi-Fi 6 and Wi-Fi 6E products supporting advanced capabilities—from Oculus to HoloLens—will allow teams that are spread across the country to virtually connect, engage, and collaborate without lag or network interruptions. Wi-Fi Alliance certification will provide a secure, reliable, and interoperable foundation as these products enter the market.
Wi-Fi network enhancements and new business opportunities
According to Linksys, "The trend we expect to see grow in 2022 is the perpetuation of hybrid work models. . . . The training wheels will come off and we will perfect the hybrid work model. Businesses and schooling systems will jump on the trend of equipping employees and students with the best Wi-Fi infrastructure to effectively work and learn from home." ASSIA agrees with this premise, foreseeing that 2022 is the year where advances in Wi-Fi including Wi-Fi mesh and Wi-Fi QoS Management™ will find their way into millions of residential homes to bridge the infrastructure gap for the future of remote work. Airties further predicts that expectations for the connected home have changed forever, with 71 percent of consumers expecting to continue working from home post-pandemic. As a result, substantial business opportunities will open up for service providers. HFCL Limited believes that network disaggregation will significantly drive down total cost of ownership and operation for Wi-Fi networks, achieving unprecedented agility and choice for Wi-Fi networks deployed in 2022.
The statements and opinions by each Wi-Fi Alliance member and those providing comments are theirs alone, and do not reflect the opinions or views of Wi-Fi Alliance or any other member. Wi-Fi Alliance is not responsible for the accuracy of any of the information provided by any member in posting to or commenting on this blog. Concerns should be directed to info@wi-fi.org.