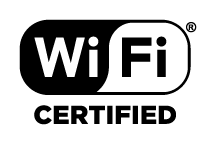 Wi-Fi CERTIFIED™ is an internationally recognized seal of approval for products indicating that they have met industry-agreed standards for interoperability, security, and a range of application specific protocols.
Certification means that a product has been tested in a variety of ways to validate interoperability with other Wi-Fi CERTIFIED equipment operating in the same frequency band.
Wi-Fi CERTIFIED products have undergone rigorous testing by one of three certification paths:
FlexTrack: Tailored to sophisticated product design built from the ground up. FlexTrack allows the most flexible Wi-Fi functionality customization built into components. Testing is completed at an Authorized Test Laboratory (ATL).
QuickTrack: Tailored to products based on components that have already completed full Wi-Fi functionality testing in a Qualified Solution. QuickTrack allows targeted changes to Wi-Fi functionality. Testing can be completed at an ATL or member testing site. Programs for which QuickTrack is available include: Wi-Fi CERTIFIED 6® and Wi-Fi 6E operation, Wi-Fi CERTIFIED ac, Wi-Fi CERTIFIED n, Wi-Fi Agile Multiband​™, Wi-Fi Data Elements™, Protected Management Frames, WPA2™, WPA3™, Wi-Fi Enhanced Open™, Wi-Fi Protected Setup™, and Wi-Fi Direct®.
Derivative: For copies of a Wi-Fi CERTIFIED device Source Product, such as the same chipset used for multiple laptop models. Members may apply for certification of derivative products without the testing requirement.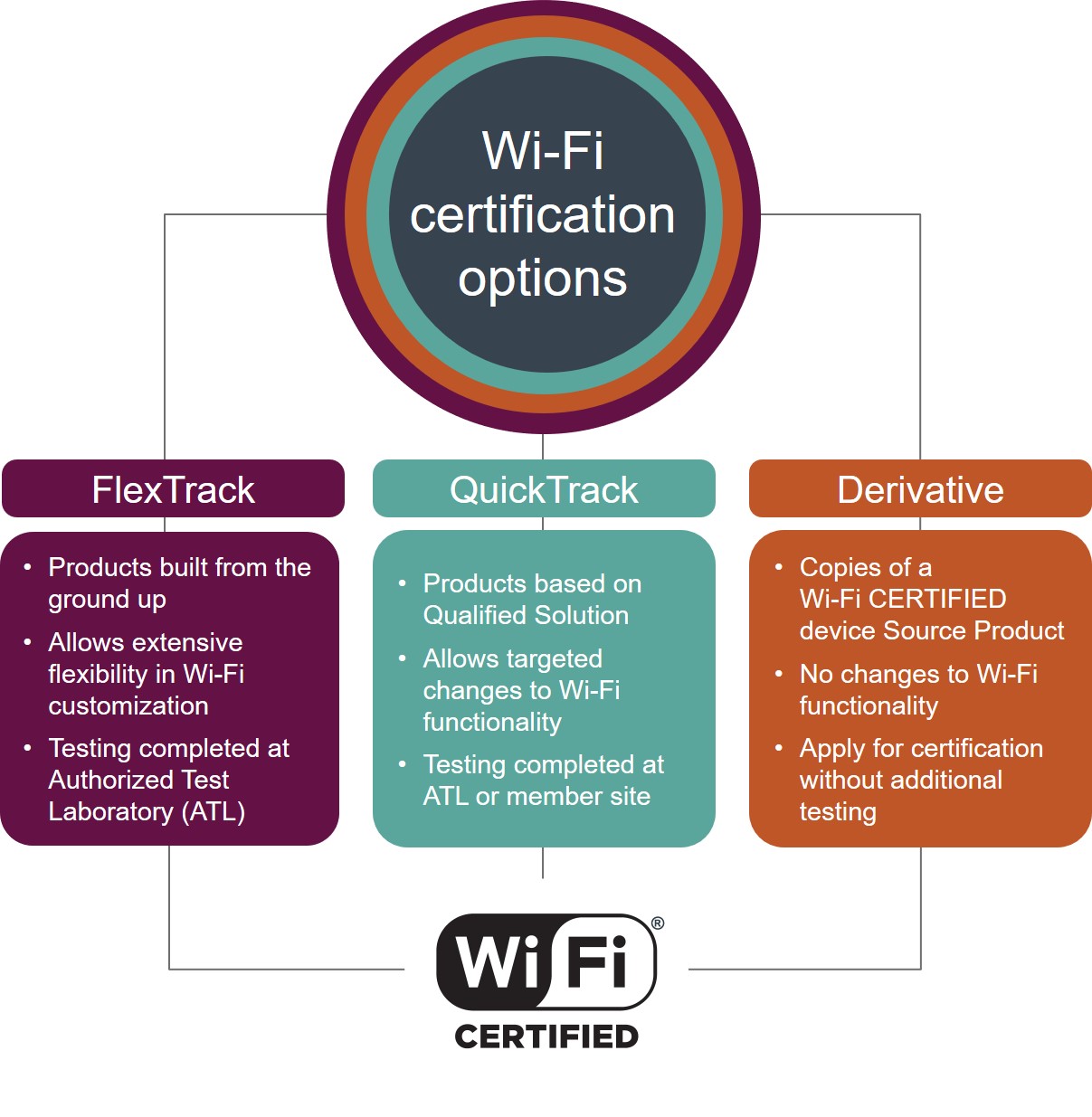 Certification is available for a wide range of consumer, enterprise, and operator-specific products, including smartphones, appliances, computers and peripherals, networking infrastructure, and consumer electronics. The Wi-Fi CERTIFIED logo gives consumers confidence that a product will deliver a good user experience. Service providers and enterprise IT managers specify Wi-Fi CERTIFIED to reduce support costs and ensure a product has met industry-agreed requirements.
A company must be a member of Wi-Fi Alliance® and achieve certification to use the Wi-Fi CERTIFIED logo and Wi-Fi CERTIFIED certification marks.