Austin, Texas and Prague, Czech Republic  – October 17, 2023 – Wi-Fi Alliance® has surpassed 80,000 certified products, bringing a momentous number of high-quality, Wi-Fi CERTIFIED™ devices to users worldwide.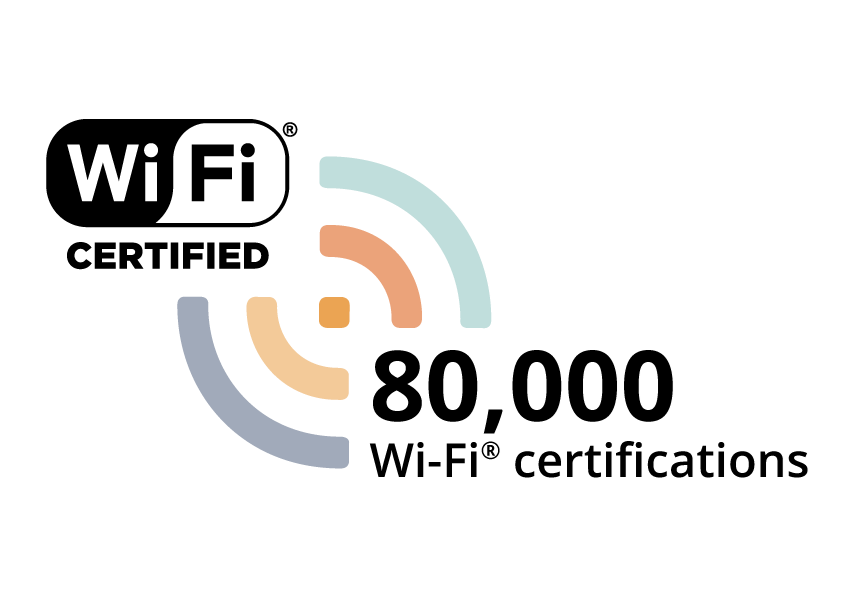 Wi-Fi CERTIFIED helps ensure products meet high standards for interoperability and security. Achieving this milestone comes at a time of incredible momentum for the Wi-Fi® industry, including the addition of new Wi-Fi CERTIFIED 6® testing to support authorization of 6 GHz standard power devices and Wi-Fi 7 certification coming in the first quarter of 2024. Wi-Fi products can be certified for core functionality like the various Wi-Fi generations, and different applications such as multiple access point Wi-Fi systems and seamless connectivity experiences while mobile. Certifying a product through Wi-Fi Alliance demonstrates a company is committed to providing the highest quality devices and bringing the best experience for their customers. 
Wi-Fi CERTIFIED products offer benefits across the Wi-Fi ecosystem. Certified interoperability supports lower return rates, reduced support costs, higher customer satisfaction, and increased sales volumes. Retailers and service providers request Wi-Fi CERTIFIED products to offer customers high quality, secure devices that deliver good user experiences. 
Learn more about the value of Wi-Fi CERTIFIED in our video or visit www.wi-fi.org/certification for more information.
About Wi-Fi Alliance® | www.wi-fi.org  
Wi-Fi Alliance® is the worldwide network of companies that brings you Wi-Fi®. Members of our collaboration forum come together from across the Wi-Fi ecosystem with the shared vision to connect everyone and everything, everywhere, while providing the best possible user experience. Since 2000, Wi-Fi Alliance has completed more than 80,000 Wi-Fi certifications. The Wi-Fi CERTIFIED™ seal of approval designates products with proven interoperability, backward compatibility, and the highest industry-standard security protections in place. Today, Wi-Fi carries more than half of the internet's traffic in an ever-expanding variety of applications. Wi-Fi Alliance continues to drive the adoption and evolution of Wi-Fi, which billions of people rely on every day.  
Follow Wi-Fi Alliance:  
wi-fi.org/beacon  
wi-fi.org/signal  
facebook.com/wificertified  
twitter.com/wifialliance  
linkedin.com/company/wi-fi-alliance  
youtube.com/wifialliance  
Media Contact: 
Highwire PR for Wi-Fi Alliance 
wi-fi@highwirepr.com