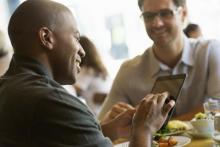 Seamless, secure connection to Wi-Fi® networks
Wi-Fi CERTIFIED Passpoint® is an industry-wide solution that streamlines Wi-Fi access and eliminates the need for users to find and authenticate a network each time they visit. Passpoint® access points (APs) can be deployed almost anywhere, from retail shops to large managed network environments such as enterprises, hotels, airports, and stadiums.
Once a user accesses the Wi-Fi network offered at a location, the Passpoint-enabled client device will automatically connect upon subsequent visits. This eliminates the need for users to search for and choose a network, request Wi-Fi access, and re-enter authentication credentials each time they visit. Passpoint automates the entire process, enabling more seamless connectivity between Wi-Fi networks and mobile devices, all while delivering enterprise-level security. Passpoint provisioning supports on-boarding of new devices by establishing credential information and providing policy information to the mobile device.
Passpoint uses enterprise security with the latest security protocols, such as WPA2 and WPA3,for enhanced security and protection against hacking attempts.
Passpoint features
Passpoint improves the mobile user experience by offering:
Automatic network discovery and selection
Seamless network access and roaming between hotspots
Enhanced WPA3™ security
Supported by most enterprise-class APs on the market today and natively supported by major mobile operating systems such as Android, iOS, macOS, and Windows, Passpoint devices and networks go beyond providing a reliable, secure, automatic connection experience. Passpoint also delivers more value to carriers, service providers, and IT managers of enterprise networks, enabling:
Mobile data offload
Wi-Fi roaming agreements across carriers and service providers
Opportunities to engage users and extract additional value from the network
Wi-Fi–based services such as Wi-Fi calling
Streamlined, enterprise-class device provisioning and credential management for enterprise and other private networks
Passpoint, also known as Hotspot2.0, is a foundational ingredient to global Wi-Fi roaming standards, reflects the depth and breadth of that collaboration as a great solution for end users, network operators, and device vendors.
Passpoint is a key component of Wi-Fi CERTIFIED Vantage™, a suite of technologies that drastically improve the user experience in managed networks. Wi-Fi Vantage™ devices layer the benefits of Passpoint's seamless light-touch authentication, with better resource management, enterprise-level security, and high performance Wi-Fi to bring a better user experience in challenging network environments.