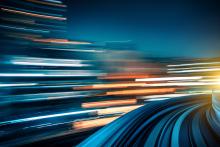 Driving the next level of Wi-Fi performance 
Wi-Fi CERTIFIED 7™, based on IEEE 802.11be technology, will be available before the end of Q1 2024. Wi-Fi 7 devices are entering the market today, and Wi-Fi CERTIFIED 7 will facilitate worldwide interoperability and bring advanced Wi-Fi® performance to the next era of connected devices. Enhancing wireless local-area network (WLAN) performance in the 2.4 GHz, 5 GHz, and 6 GHz bands, Wi-Fi 7 brings cutting-edge capabilities to enable innovations that require high throughput, lower latency, and greater reliability across home, enterprise, and industrial environments, including key applications like augmented, virtual, and extended reality (AR/VR/XR), immersive 3D training, and ultra-high definition video streaming.  
Wi-Fi 7 networks support advanced Wi-Fi performance for high bandwidth applications to ensure each connected device delivers the dependable experience users expect, even in congested environments like stadiums and large campuses. 
Key benefits of Wi-Fi CERTIFIED 7 include:
Higher throughput 
Improved support for deterministic latency 
Enhanced efficiency, even in dense networks 
Increased robustness and reliability 
Reduced power consumption
The advanced features of Wi-Fi 7 
The key features of Wi-Fi 7 work together to deliver higher data throughputs and support deterministic latency for sophisticated use cases that demand first-rate reliability. Some of the most anticipated features include:
320 MHz superwide channels that are only available in 6 GHz provide twice the throughput of Wi-Fi CERTIFIED 6®, enabling multigigabit Wi-Fi device speeds
Multi-Link Operation (MLO) supports more efficient load balancing of traffic among links for increased throughput, lower latency, and enhanced reliability in AR/VR/XR and cloud computing 
4K QAM achieves 20% higher transmission rates than Wi-Fi 6's 1024 QAM for greater efficiency, enabling flawless high-definition video streaming and social cloud-based gaming without lag
Wi-Fi 7 supports superior connectivity for emerging use cases with high levels of interactivity and immersion. As user demand for high capacity, low latency technologies like AR/VR/XR, cloud computing, and Industrial IoT grows across market segments, Wi-Fi 7 devices will deliver optimized performance, even in dense environments in the 2.4 and 5 GHz band. Countries with access to 6 GHz will experience the full scope of Wi-Fi 7's unparalleled performance.