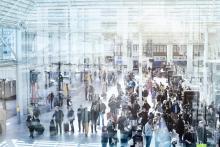 Elevated user experience in Wi-Fi® networks
Wi-Fi CERTIFIED Vantage™ makes it easier than ever for users to select devices that give the best Wi-Fi experience in airports, stadiums, offices, campuses, retail locations, and service provider-managed residential networks. Wi-Fi Vantage™ devices offer features that provide secure, light-touch access to Wi-Fi networks, as well as mechanisms for efficient use of spectrum and network resources in densely populated, dynamic environments.
Wi-Fi Vantage is available for both Wi-Fi 5 and Wi-Fi 6 devices.
---
† Wi-Fi CERTIFIED ac is the certification program for Wi-Fi 5 generation devices
* WPA3™ is required for all device certifications as of July 1, 2020; devices certified prior may support only WPA2™
Wi-Fi network administrators offering Wi-Fi Vantage deliver an optimal user experience with seamless and secure connections, increased throughput, and the ability to allow more devices to operate on the same network without sacrificing performance. Wi-Fi Vantage continues to evolve, incorporating the latest technologies to give users the most enhanced Wi-Fi experience available. Each new generation of Wi-Fi Vantage devices provides improved device performance and reduced network connection times when accessing managed Wi-Fi networks.