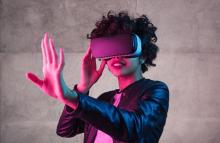 The next generation of interactive, immersive experiences
Extended Reality (XR) represents the convergence of physical and virtual experiences that create an immersive environment. XR technologies, including augmented reality (AR), virtual reality (VR), and mixed reality (MR), extend the reality we perceive by merging virtual effects with real-world applications to enhance or simulate real-life scenarios. With high levels of interactivity and immersion, XR delivers engaging, untethered virtual experiences to users around the world.
Wi-Fi® enables unerring connectivity for XR applications
From social gaming to 3D training, XR experiences require stringent performance to deliver immersive environments and real-time behavior – and are intolerant of anything less than the low latency and high bandwidth that the superwide, uncongested channels of 6 GHz spectrum provide. The advanced capabilities of Wi-Fi enable the full potential of XR supporting responsive, engaging XR experiences in education, entertainment, healthcare, and beyond. Wi-Fi unlocks key benefits that empower XR, including:
Multi-gigabit speeds for instantaneous data exchange
Power efficiency to deliver rapid, efficient data transfers
Bounded latency and high reliability for lag-free experiences in congested environments
The evolving XR ecosystem
XR is changing the way we learn, collaborate, and connect. The global XR market is predicted to grow significantly in the coming years with the expected total available market (TAM) for all XR system markets projected to rise over $250 billion by 2028[1]. XR is experiencing rapid innovation across a variety of use cases:
Enterprise: XR applications are enhancing the way we work, collaborate, and communicate with immersive presentations, virtual events, and collaborative brainstorming
Education: guided instruction and virtual field trips offer realistic experiences to remote students
Healthcare: XR provides a realistic environment for healthcare professionals to train on complex surgical procedures and allows for more efficient patient monitoring
Social: a key driver of the development of extended social communities, XR allows users to interact and explore together, regardless of their geographic location
Gaming: XR technology allows for vibrant graphics and real-time behavior to give players a truly immersive, first-person perspective of in-game action
Wi-Fi enables XR to connect the physical and digital worlds, delivering vibrant experiences that will enhance the way we work, live, and engage in the metaverse. Wi-Fi will continue to serve as the foundation of connectivity for new and emerging XR applications, with the 6 GHz spectrum of Wi-Fi 6E and forthcoming Wi-Fi 7 positioned to fuel endless possibilities for XR innovation. Wi-Fi Alliance® certification programs enable the technologies that meet XR's requirements for high data rates, high reliability, low latency, and low power consumption. The Wi-Fi CERTIFIED™ logo signifies that devices delivering XR experiences meet the high standards for QoS performance, interoperability, and security.

[1] Statista, July 2022