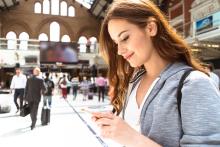 Network operators around the globe are deploying Wi-Fi® in business models tailored to fit their unique needs. As end users become more demanding and expect faster speeds, more reliable service, and superior experiences, Wi-Fi performance and ubiquity have created an opportunity for operators to utilize Wi-Fi to improve their network offerings in and outside the home, as well as in enterprise environments. Wi-Fi is being used to improve coverage, offload data traffic, increase network density, reach consumers with paid content outside the home, increase loyalty, and reduce roaming costs.
Operators face a number of challenges that they must address. Security and privacy needs have increased and become a must-have. New applications are demanding lower latencies. Poor client roaming has become a significant obstacle, as has the requirement to identify best fit devices and fix inconsistent performance of client devices. Mobile operators are also under pressure to upgrade to 5G to improve access. To support these needs in the face of diverse devices and environments, as well as numerous data sources, operators should deploy Wi-Fi equipment with the latest Wi-Fi certifications. 
The Wi-Fi industry is responding to the breadth of need with a tremendous level of innovation:
Wi-Fi brings unique characteristics and a roadmap of advancements that offer many benefits for operators and IT managers, such as better resource management, higher speeds, longer ranges, cost effective management, service differentiation, support for high-end use cases, and the ability to influence client roaming behavior in their managed networks. Already a powerful tool to increase capacity, the roadmap of continued enhancements under development will ensure that Wi-Fi technology continues to drive opportunity, including supporting and enabling new services, providing reliable and secure wireless connectivity, enabling energy efficiency goals with cognitive radio techniques, and supporting quality of experience for emerging services with low latency. .
With strong representation from operators, equipment makers, and consumer electronics makers in the organization, the Wi-Fi Alliance® collaboration forum is uniquely suited to bring about technology innovations that meet operator requirements. To ensure alignment and deliver the most valuable programs across the operator ecosystem, Wi-Fi Alliance has liaison agreements with other operator-focused organizations including CTIA™, GSM Association, Wireless Broadband Alliance, and CableLabs®.
Wi-Fi Device Metrics
As a leader in the innovation of Wi-Fi technologies, Wi-Fi Alliance has developed a framework to provide operators with a testing tool to evaluate the quality of devices on a network. Wi-Fi Device Metrics promotes standardized methodologies and uniform terminology to help characterize and evaluate Wi-Fi access points (APs) and client devices, providing measurement of throughput, latency, and user experience for a range of specific deployment scenarios. The best practices and definitions contained within this framework standardize performance measurement and simplify device evaluation. By enacting this framework, IT managers and network architects can evaluate AP and client devices more thoroughly in order to distinguish high performance devices that can provide a better customer experience for target applications.
Shape the future of Wi-Fi. Join Wi-Fi Alliance today.
Wi-Fi Alliance members continually develop enhancements to Wi-Fi that bring strategic importance to operator networks. Numerous operators from around the world participate in Wi-Fi Alliance to help shape our technologies and certification programs with the unique needs of service providers in mind. Learn more about Wi-Fi Alliance membership or contact us.