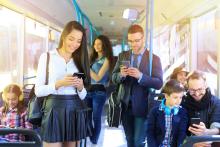 Wi-Fi CERTIFIED Wi-Fi Aware™ extends Wi-Fi® capability with quick discovery, connection, and data exchange with other Wi-Fi devices—without the need for a traditional network infrastructure, internet connection, or GPS signal. Wi-Fi Aware™ provides rich here-and-now experiences by establishing independent, device-to-device Wi-Fi connections based on a user's immediate location and preferences.
Social interaction uses
Connect with people nearby to play a favorite game on mobile devices
Enable a friend in the vicinity to simultaneously hear songs being played on a user's device
Find friends at a concert and share photos or coordinate a place to meet
Securely transfer photos or stream videos from one or multiple cameras to phones or laptops without relying on infrastructure
Pair and tether an XR device to a game console, PC, or phone, and utilize local rendering to support XR applications
Business uses
Securely send a document to a printer without first logging onto the network
View a restaurant menu and make a reservation while walking by without an internet connection, even when the restaurant is closed
Educational uses
Bring enhanced educational experiences to students visiting a museum, art-gallery, and field trips
Automate and timestamp school check-ins and roll-call
Emerging uses
Enable autonomous and remote-controlled vehicles to instantly become aware of other devices and automatically exchange information such as GPS coordinates, altitude, direction, and owner ID
Streamline airport security, customs, and immigration processing flows using mobile identification (ID) such as a driver's license or passport without requiring travelers to present a physical ID
IoT uses
Discover IoT devices, such as light bulbs, using a mobile device and allow service level communications for device and service configurations
Wi-Fi Aware enriches personalized mobility experiences
Wi-Fi Aware leverages the spontaneous nature of user proximity to enable innovative applications. Wi-Fi Aware devices continuously discover other devices within a user's Wi-Fi range prior to association, making it easy to find nearby information and services that match preferences set by the user. This technology enables truly personalized social, local, and mobile experiences, helping users to get the most out of their mobile devices and nearby devices, even in crowded environments.
Key features
Continuous, power efficient device-to-device discovery using Wi-Fi or Bluetooth Low Energy radios prior to association—even without a GPS, cellular, or infrastructure connection
Multi-directional sharing of services or information simultaneously
Dynamic connectivity, enabling groups of devices connected through Wi-Fi Aware to maintain their connection even if one device moves out of range
Works well indoors, outdoors, and in crowded environments
Efficient device-to-device communication supporting both native and IP-based data exchange; each data stream is associated with a specific application or service
Device-to-device data connection with high performance data rates and security, leveraging cutting-edge Wi-Fi technologies, including Wi-Fi 6, Wi-Fi 6E, and WPA3
Optimized device-to-device communication scheduling to support services and applications requiring extremely low latency and high power efficiency
Device pairing and comprehensive frame protections, enabling autonomous and security-assured user experience
Advanced privacy protections, including pairing identity resolvable only by paired devices and enabling periodic changes of over-the-air identities
Support for discovery of IoT devices that do not support synchronization