It's been about a year since Wi-Fi Alliance® released the Wi-Fi EasyMesh™ program and started certifying devices. Since then, the industry has been hard at work creating Wi-Fi EasyMesh products and working on what comes next. CableLabs is continuing its leadership work on the updated Wi-Fi EasyMesh certification program, and now we can all see the fruits of that labor.
The updated Wi-Fi EasyMesh protocol adds a number of essential features that operators and end-users need:
Wi-Fi EasyMesh Controller-centric collection of Wi-Fi CERTIFIED Data Elements™ diagnostic data from all connected access points (APs)
Enhanced backhaul security with SAE
Optimized use of available channels with coordinated channel scanning (including DFS channels)
Network traffic separation with virtual local area networks (VLANs), such as private and guest networks
Wi-Fi CERTIFIED Agile Multiband™ support for improved client connections
What's the big deal?
Since our last blog post about Wi-Fi EasyMesh, mesh APs have become almost as well known as antibacterial soap or friendship bracelets, albeit not yet as universally deployed. Many of these products work very well, especially those that have dedicated interconnection (backhaul) radios, as Wi-Fi® remains the easiest and most cost-effective way to connect these multi-AP systems.
So, what's the problem we're solving with this Wi-Fi EasyMesh update? Nearly all of the products not certified for Wi-Fi EasyMesh are opaque to an operator. When problems arise, the operator has little to no information available about what's going on behind the cable modem gateway, and the customer is left without assistance. The first version of the Wi-Fi EasyMesh protocol created the groundwork for this, whereby the Wi-Fi EasyMesh Controller (usually in the cable modem gateway) can set up and configure the other Wi-Fi EasyMesh APs. Now, the updated Wi-Fi EasyMesh protocol includes all the diagnostics information (aka, Wi-Fi Data Elements™) that an operator might need to get down to the nitty gritty and fix an issue.
Wi-Fi Data Elements, you say…
In the blog post, "Data Elements and TR-181 – Connect to the PNM Data You Need," my colleague Josh Redmore explained what Wi-Fi Data Elements are and exactly why operators need them:
"The ultimate iteration of [remote Wi-Fi troubleshooting] is a fully automated proactive network maintenance system, where Wi-Fi issues are resolved before they impact your customer. When Wi-Fi becomes self-healing, customers enjoy seamless access to your services."
We can safely say that this is the Holy Grail of any operator-deployed Wi-Fi system, and the updated Wi-Fi EasyMesh protocol with Wi-Fi Data Elements support makes that possible in a standardized way.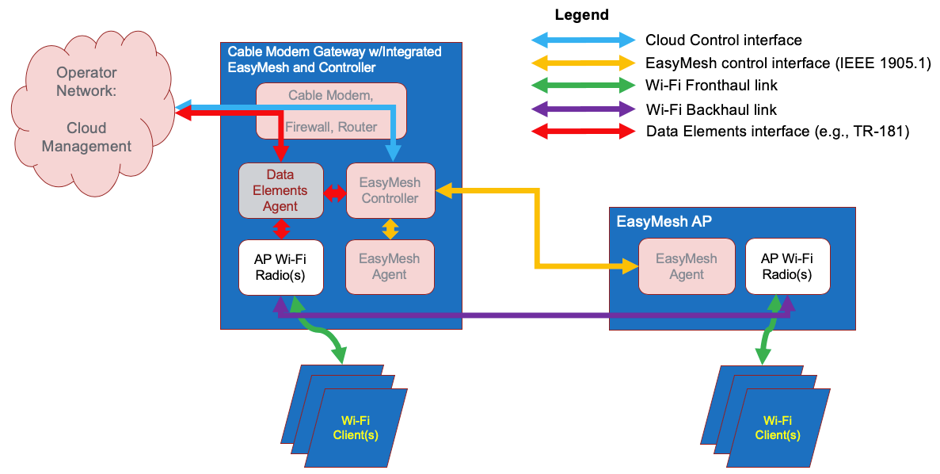 Figure 1: Example Wi-Fi EasyMesh and Wi-Fi Data Elements network topology
But wait, there's more…
Remember all the major enhancements listed above in the Wi-Fi EasyMesh protocol update? What benefits do those bring?
SAE support in the backhaul brings more robust authentication mechanisms, increases cryptographic strength, disallows outdated legacy protocols, and requires the use of Protected Management Frames (PMF). It adds support for Simultaneous Authentication of Equals (SAE), which is resistant to offline dictionary attacks.
Coordinated channel scanning is a combination of two features that essentially allow the Wi-Fi EasyMesh Controller to get a complete picture of which Wi-Fi channels are overcrowded and which are free for use. It includes the ability to ask APs to scan specific channels, including DFS channels. The result is that the Wi-Fi EasyMesh network will be able to use the best channels available for each deployment—not only as first installed, but continually.
Network traffic separation continues Wi-Fi EasyMesh's support for multiple service set identifiers (SSIDs) per AP and even per radio. However, until now, all traffic for those SSIDs was intermingled. Now each SSID's traffic can be separated into VLANs. This upgrade helps operators take a step in the right direction toward traffic security.
Wi-Fi Agile Multiband™ support adds a number of features, including optional support for Fast Transition roaming with WPA2-PSK, improved guidance for clients to move to another AP in the network, tunnelling of certain client-sent management frames (ANQP, WNM, Assoc) back to the Wi-Fi EasyMesh Controller, and support for association-disallowed attributes in beacons and probe responses from Wi-Fi EasyMesh Agents.
CableLabs' early and continuing involvement
Wi-Fi connectivity is key for CableLabs' members, and CableLabs has been working closely on this Wi-Fi Alliance standard from the start. We were chosen to be the editor of the organization's test plan for both the first and second versions of the protocol, and we worked with Wi-Fi Alliance staff and vendors to develop the certification program. CableLabs continues to help lead and contribute essential technology to the Wi-Fi EasyMesh program.
Stay tuned for more press releases and blog posts to follow the progress of this new wireless technology.
The statements and opinions by each Wi-Fi Alliance member and those providing comments are theirs alone, and do not reflect the opinions or views of Wi-Fi Alliance or any other member. Wi-Fi Alliance is not responsible for the accuracy of any of the information provided by any member in posting to or commenting on this blog. Concerns should be directed to info@wi-fi.org.