Wi-Fi® is ubiquitous
The vision of Wi-Fi Alliance® is to connect everyone and everything, everywhere.
Wi-Fi Alliance members are certainly making significant progress. Consumers are widely adopting Wi-Fi and are demanding more from Wi-Fi than ever before. New technologies, such as Wi-Fi CERTIFIED 6™ Release 2, are helping to deliver on today's connectivity demands.
There have been 39 billion device shipments over Wi-Fi's lifetime and more than 4.4 billion Wi-Fi devices will ship in this year alone.1 In a recent Wi-Fi Alliance blog, IDC Research was referenced, stating that more than 2 billion Wi-Fi 6 and Wi-Fi 6E devices will enter the market in 2022.
Delivering Wi-Fi CERTIFIED 6 Release 2 for consumers and service providers
Wi-Fi Alliance focuses on making technologies interoperable, easy to use and deploy, and considers both the consumer and the service provider in its innovations. Consumers want a fast, reliable network. They aren't interested in knowing how technology works. They just want a great Wi-Fi experience where all the devices in their homes – no matter the brand – can seamlessly and securely work together.
Service providers want to deliver a great experience to their customers. They select the products and manage the network and want to provide the speeds and quality of experience that their customers expect. Consumers drive our growth. The service provider ensures a satisfying consumer experience that impacts this growth.
Consumer behavior drives need for Wi-Fi CERTIFIED 6 Release 2 deployment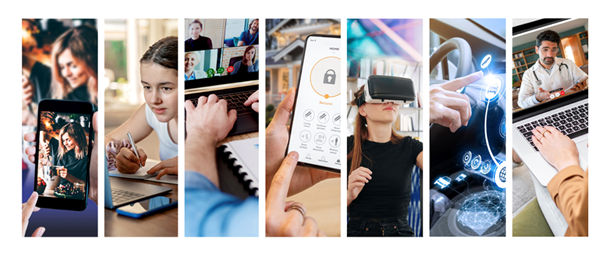 Users are in the driver's seat. Service providers manage the user experience. Worldwide service providers deploy millions of gateways each year to enable whole-home connectivity. The use cases for Wi-Fi require the need for technology advancements, and the role of Wi-Fi Alliance and Wi-Fi CERTIFIED™ interoperability testing is more important than ever.
The adoption of new use cases for robust, reliable Wi-Fi within the home continues to grow, in areas such as:
Video blogging
Online learning
Working and video conferencing from home
Home security surveillance
AR/VR – the metaverse experience
Connected cars
Telehealth
And most importantly:
Video gaming became a way to stay connected with friends during these past few years of isolation. Data shows that monthly gamers will grow to be 179.6 million in the U.S. this year.2 More than most applications, video gaming significantly impacts a Wi-Fi network.
Growing demand for uplink capability driven by applications
Every new generation of Wi-Fi has tried to optimize the limited available unlicensed spectrum while catering to user demand. There will be a continual surge in the number of Wi-Fi devices connected at home for years to come. As the demand for video-based applications continues to rise, the content will become richer (HD, Ultra HD, 8K) each year. Along with many connected devices, this trend will require higher network capacity to deliver a robust experience in downlink and uplink directions.
Consumers are looking for new disruptive, untethered real-time immersive experiences such as video conferencing, gaming, and home security. These new services require a highly reliable and low latency network to achieve a satisfying Quality of Experience (QoE) for users who expect high speed upstream and downstream. With these applications and new services, consumers expect more. They want multi-gig experiences (speed) and more connected devices (capacity and densification), and they want their Wi-Fi to be there when they need it (consistency and robustness).

Wi-Fi CERTIFIED 6 Release 2 adds new features that support these advanced Wi-Fi applications and deliver smoother streaming services and video conferencing, faster uploads, and more reliable gaming. Gateways using tri-band Wi-Fi CERTIFIED 6 Release 2 in 2.4, 5, and 6 GHz can better manage the traffic to and from the growing number of devices in the home by enabling low-latency networks that provide speed, capacity, and consistency.
Wi-Fi CERTIFIED 6 Release 2 is designed to support the latest demanding use cases as discussed previously and significantly improve Wi-Fi uplink performance with benefits such as:
Ensuring faster uploads for video streaming and gaming
Multiple stations (STAs) upload content simultaneously using uplink multi-user multiple input multiple output (MIMO), enabling better overall network performance and user experience, especially for gaming, video calling, video conferencing and streaming applications.
Improving network performance
Preamble puncturing allows enhanced network access in the presence of narrowband interferers.
Improving battery life for mobile clients
New low power and sleep mode enhancements are supported, including Target Wake Time (TWT), Broadcast Target Wake Time, and Extended Sleep Time, allowing for more optimized sleep/wake schedules for power-critical devices.
Extending range for IoT clients
The Uplink Extended Range capability ensures outdoor station connections are maintained over a longer distance from an access point and delivers improvements that provide increased coverage in dense, congested environments such as high-rise, multi-dwelling units.
What does all this mean to the Wi-Fi industry?
As an industry, we need to continue to work together through Wi-Fi Alliance. Just as in the past, every generation of Wi-Fi has had to optimize limited available unlicensed spectrum while catering to user demand. This need will continue.
Interoperability and coopetition (cooperative competition) are necessary to maintain consumer satisfaction.
There will be a continual surge in the number of Wi-Fi devices and new use cases not yet imagined that are connected at home for years to come. As the demand for video-based applications continues to rise, the content will become richer (HD, Ultra HD, 8K). Increased video streaming at higher quality and the increased number of connected devices will drive the need for higher network capacity that can deliver a robust consumer experience in both downlink and uplink directions. Wi-Fi CERTIFIED 6 Release 2 is yet another step in that direction.
---
2 eMarketer | Insider Intelligence, 2021
The statements and opinions by each Wi-Fi Alliance member and those providing comments are theirs alone, and do not reflect the opinions or views of Wi-Fi Alliance or any other member. Wi-Fi Alliance is not responsible for the accuracy of any of the information provided by any member in posting to or commenting on this blog. Concerns should be directed to info@wi-fi.org.