Seven considerations for putting Wi-Fi 6E and the 6 GHz spectrum to work
With overcrowded airwaves currently limiting the potential of Wi-Fi®, it's no wonder that more than 70 countries have already acted, or are considering acting, to open the 6 gigahertz (GHz) band for unlicensed Wi-Fi use. Depending upon the country's implementation, this will provide two to three times the spectrum available today, resulting in 80 megahertz (MHz) and 160 MHz channels being viable for the first time and making the new Wi-Fi 6E standard ideal to support digital transformation efforts and use cases like high definition video and X Reality (XR).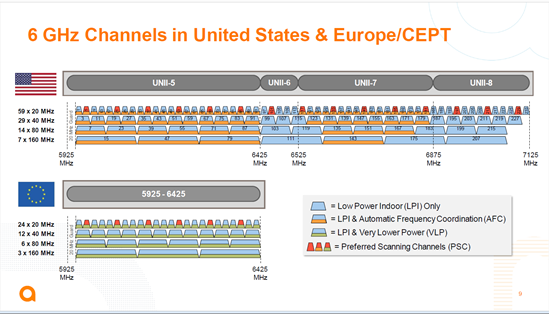 New 6 GHz channels for the United States and European Union shown above provide two to three times the available spectrum. More than 70 countries are planning to adopt similar regulations.
Putting Wi-Fi 6E to work
Nearly 338 million Wi-Fi 6E devices were predicted to enter the market in 2021. Enterprise IT departments worldwide are developing their Wi-Fi 6E deployment strategies. Here are the top considerations to keep in mind as you incorporate Wi-Fi 6E into your network infrastructure.
Consideration 1: Network design and AP placement
In many buildings with existing modern Wi-Fi, the extant cabling and access point (AP) density will support Wi-6E with no additional density required as the power levels authorized for 6 GHz operation are comparable to those used in 5 GHz, and the two bands have essentially identical propagation. With the coverage layers in 2.4 GHz, 5 GHz, and 6 GHz overlapping, AP placement is generally very similar and, depending upon the vendor, existing mounts can often be reused.
For deployments in new or refurbished buildings, suggested enterprise WLAN designs target coverage of 1500–2000 sq ft (140–190 sq meters) per AP, creating a slightly denser network than in the past, which can also help future-proof enterprise deployments.
Consideration 2: User experience and IoT
For enterprises using a staged deployment approach, it's important to consider where Wi-Fi 6E benefits will be best applied to improve user experiences. As with earlier Wi-Fi generations, Wi-Fi 6E will first roll out in high-end smartphones and laptop PCs, meaning it may be helpful to consider where device users are likely to congregate and work versus areas they will primarily travel through.
Also, with Wi-Fi 6E adoption offloading new traffic from the 2.4 GHz and 5 GHz bands, another consideration is whether the time has finally come to repurpose the 2.4 GHz band. Doing so can enable broader IoT device adoption for creating smarter workplaces and factories by using- Bluetooth and Zigbee for lower data rate IoT devices and Wi-Fi for higher data rate IoT devices. In other words, repurposing 2.4 GHz would entail discontinuing access to this band for all but headless devices.
Consideration 3: Adjacent band channel restrictions
Wi-Fi 6E access points are typically tri-radio, with dedicated 2.4 GHz, 5 GHz, and 6 GHz radios to enable any channel combination. The challenge comes with preventing interference and performance degradation between the high end of 5 GHz band and the low end of 6 GHz since there is only 50 MHz between them. Traditional channel filtering solutions limit the ability to use adjacent channels, taking up to as much as a third of the available 6 GHz in countries mandating 500 MHz in the 6 GHz band.
To resolve this issue and maximize the number of available channels, wireless network architects should look for dynamic hardware-based filtering, sometimes known as ultra tri-band filtering, which should minimize or even eliminate such restrictions between adjacent bands.

Traditional filter solutions to protect the 5 GHz and 6 GHz bands cannot effectively block energy from channels in the other band close to the gap (need at least 200MHz separation). The typical way to deal with that is by sacrificing some channels—often the lower eight 6 GHz channels.
Consideration 4: Edge switch port speeds and Power over Ethernet (PoE) class
Whether deployed in a new or existing building, Wi-Fi 6E APs require more power than previous generations, typically around the 25.5 Watts limit of PoE+. The reason for this is the third radio, as each new radio increases the energy consumption linearly. Network designers will need to review their wired switching infrastructure to ensure they have sufficient power and backhaul rates to maximize a Wi-Fi 6E investment. However, some Wi-Fi 6E APs can adapt to available power by making various nonessential features dormant.
Once Wi-Fi 6E devices have gained broader adoption, network architects should look seriously at ensuring they have multigigabit ports on the switches driving their APs. The 6 GHz radio can easily exceed 1 gigabit per second (Gbps) data rate itself and the two other radios can generate up to another 1 Gbps. Regardless, enterprises should plan an edge switching refresh to upgrade the ports dedicated to their WLAN.
Consideration 5: Outdoor coverage
In many markets, the 6 GHz band is already used outdoors by incumbent operators such as utility companies, public safety agencies, and television broadcasters. Wi-Fi Alliance®, in coordination with the U.S. Federal Communications Commission, is designing a system known as Automated Frequency Coordination (AFC), which will manage spectrum usage requests in outdoor environments to ensure that these incumbents do not experience harmful interference from Wi-Fi systems. In other countries, systems and specifications are in various phases of development.
Therefore, network designers should focus their efforts on indoor networks and monitor development of AFC and similar systems to inform their decision on when to extend Wi-Fi 6E to outdoor locations.
Consideration 6: Global operations with mixed Wi-Fi 6E regulatory adoption
For global enterprises operating in countries where Wi-Fi 6E has already gained regulatory approval as well as in geographies where it has not yet been adopted, network designers can still future proof their infrastructure.
In many countries, this can be accomplished by deploying tri-band Wi-Fi 6E APs with the 6 GHz radio disabled by the manufacturer. Later, after regulatory approval is achieved, the OEM can issue a software update that enables operation of the 6 GHz band. Such a strategy permits global enterprises to gain purchasing and operating efficiencies across their footprints.
Consideration 7: Optimizing security
To become Wi-Fi CERTIFIED™, Wi-Fi Alliance mandates Wi-Fi 6E solutions include the latest security technologies: Wi-Fi CERTIFIED WPA3™ for private networks and Wi-Fi CERTIFIED Enhanced Open™ for open (guest) networks. In addition to workspaces, consider prioritizing deployment of certified Wi-Fi 6E solutions in areas where there is a higher concentration of guest use, such as in retail stores or in building lobbies, as all major mobile device OSs support these standards.
Enterprises should also upgrade any "open" 2.4 or 5 GHz SSIDs to use Wi-Fi Enhanced Open™ in "Transition Mode." Complement WPA3™ and Wi-Fi Enhanced Open with network access control solutions and dynamic segmentation to further strengthen your security posture.
Keeping your Wi-Fi 6E journey on track
As the most significant advancement to wireless networking in 20 years, the arrival of Wi-Fi 6E opens up truly exciting possibilities for enterprise connectivity. With so much more bandwidth and so much less congestion, hospitals, schools, sporting venues, factories, multifamily structures, and every type of enterprise will reap benefits from the availability of the 6 GHz spectrum.
Naturally, deploying and optimizing your fast, resilient, and secure Wi-Fi 6E network takes the same planning as any previous Wi-Fi innovation. By considering the points outlined above and working with your trusted technology partners, you can get the most out of 6 GHz, delight your users, and enjoy the Wi-Fi 6E journey ahead.
The statements and opinions by each Wi-Fi Alliance member and those providing comments are theirs alone, and do not reflect the opinions or views of Wi-Fi Alliance or any other member. Wi-Fi Alliance is not responsible for the accuracy of any of the information provided by any member in posting to or commenting on this blog. Concerns should be directed to info@wi-fi.org.