Wi-Fi Alliance® honors 'Top Certifiers', recognizing members who have the most Wi-Fi CERTIFIED™ products each year
Each year, Wi-Fi Alliance® honors members who have demonstrated their commitment to Wi-Fi® quality, interoperability, and security by achieving the most Wi-Fi CERTIFIED™ products. Wi-Fi CERTIFIED is a recognized brand for consumer, enterprise, and operator products meeting strict industry-agreed standards. Achieving product certification demonstrates a company's commitment to high quality Wi-Fi and good user experience.
Wi-Fi CERTIFIED products undergo rigorous testing to validate interoperability with other certified products, giving users confidence that Wi-Fi devices work well together. The list of 2021 Wi-Fi CERTIFIED leaders include:
Huawei Technologies Co., Ltd.
Lenovo
LG Electronics
Panasonic Corporation
Samsung Electronics
Sharp Corporation
TCL Corporation
Top Victory Investments Ltd.
WiZ – a Signify company
ZTE Corporation
Honeywell Safety and Productivity Solutions – Top New Certifier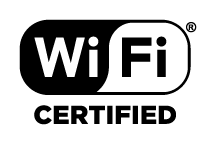 Wi-Fi device shipments reached more than four billion in 2021, and with nearly 18 billion devices in use today1, Wi-Fi is relied on to provide quality connectivity across all possible environments. With the number of devices and applications growing each year, Wi-Fi CERTIFIED identifies Wi-Fi products providing the most consistent and reliable experience. Wi-Fi CERTIFIED gives companies with three flexible testing options – including QuickTrack, the newest certification path introduced in 2021 – to ensure Wi-Fi Alliance members can deliver the highest quality Wi-Fi with their Wi-Fi CERTIFIED products. Users should look for the Wi-Fi CERTIFIED logo when making purchase decisions or view the Wi-Fi Alliance Product Finder for certified devices.
Please watch our video to learn more about the value of Wi-Fi CERTIFIED.
The statements and opinions by each Wi-Fi Alliance member and those providing comments are theirs alone, and do not reflect the opinions or views of Wi-Fi Alliance or any other member. Wi-Fi Alliance is not responsible for the accuracy of any of the information provided by any member in posting to or commenting on this blog. Concerns should be directed to info@wi-fi.org.