March 16, 2023
by
The Beacon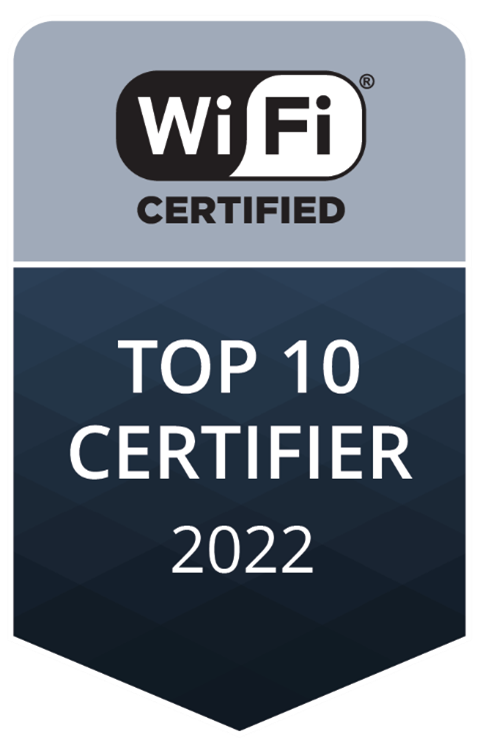 Each year, Wi-Fi Alliance® recognizes companies that have made an exceptional contribution to high-quality Wi-Fi® by certifying the most products. Top certifiers demonstrate their commitment to delivering high-quality, interoperable, and secure Wi-Fi CERTIFIED™ devices to their customers. The Wi-Fi CERTIFIED brand indicates Wi-Fi excellence in the consumer, enterprise, and operator spaces by upholding strict industry-agreed standards. Certifying products shows a company's dedication to ensuring the best Wi-Fi experience for their customers and across their networks.
Wi-Fi CERTIFIED products undergo rigorous testing to ensure they meet high standards. The list of 2022 Wi-Fi CERTIFIED leaders include:
LG Electronics
Panasonic Corporation
Sony Group Corporation
Samsung Electronics
Canon Inc.
Signify Netherlands B.V.
ZTE Corporation
Pioneer Corporation
Brother Industries, Ltd.
Huawei Device Co., Ltd.
Wi-Fi device shipments reached more than 3.8 billion in 2022, with nearly 18 billion devices in use today.[1] The world depends on Wi-Fi for robust internet access across a variety of scenarios, with strong year-over-year growth in devices and applications. There are three certification paths to meet the unique needs of Wi-Fi Alliance members — including QuickTrack, which allows Wi-Fi Alliance members to build products based on Qualified Solutions (modules, chipsets, and other solutions) that have undergone prerequisite testing. Learn more about the value of Wi-Fi CERTIFIED in this video and contact Wi-Fi Alliance if you're interested in certification.
---
[1] IDC Research, March 2023
The statements and opinions by each Wi-Fi Alliance member and those providing comments are theirs alone, and do not reflect the opinions or views of Wi-Fi Alliance or any other member. Wi-Fi Alliance is not responsible for the accuracy of any of the information provided by any member in posting to or commenting on this blog. Concerns should be directed to info@wi-fi.org.