Wi-Fi® is essential for driving automotive transformation
February 16th, 2022 by Kevin Tang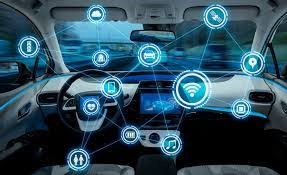 The automotive industry is entering a fascinating era in which technological advancements and electronics transform the ecosystem and value chain. The vehicle is fundamentally changing from a tool used to merely move us from point A to B, into an intelligent, fully connected hub that comes with a variety of new experiences for consumers and new monetization opportunities for OEMs and service providers. Wi-Fi® will be essential for driving automotive transformation globally.
Intelligent vehicles need connectivity
Connectivity has been a critical emphasis for carmakers. Vehicles today come with a high level of intelligence, generating volumes of data from a multitude of sensors indicating how they are used, where they are, and what surrounds them. With large sets of telematics data uploaded to the cloud, carmakers can analyze engine performance parameters, braking and steering systems, and energy efficiency, feeding into next-generation product development. Carmakers can offer premium service packages that are more service oriented and personalized by analyzing data collected from exterior sensors such as surround-view cameras and LiDAR detectors for real-time traffic conditions, roadside assistance, and travel concierge.
In-vehicle connectivity plays a crucial role in driving a differentiated consumer experience. The next-generation infotainment system or digital cockpit is being reinvented as a more social and connected space with rich content and services. Robust connectivity with higher bandwidth and lower latency is required to upgrade software frequently as consumer use cases evolve. McKinsey's 2020 autonomous driving, connectivity, electrification, and shared mobility (ACES) survey showed that 37 percent of consumers would switch car brands for better connectivity. This figure is even higher in some countries; for example, 56 percent in China.
Many premium cars are already equipped with Wi-Fi 5 today for connecting vehicle and passenger devices to the cloud. With the new trends and value proposition in mind, carmakers are increasingly adding the latest Wi-Fi 6 and Wi-Fi 6E infotainment and telematics systems to futureproof and keep up with digital transformation and service demand over the vehicle's lifespan.
Wi-Fi 6 and Wi-Fi 6E adoption and benefits
Today connected cars generate around 25 gigabytes (GB) of data per hour. As the level of intelligence moves to higher autonomy and the number of sensors rapidly increases, the amount of data generated per day can range from 5 to 10 terabytes (TB) for a passenger car to as high as hundreds of TB per day in the case of a self-driving taxi. A significant portion of this data will be uploaded to the cloud for inferences and analytics. This is where Wi-Fi 6 and Wi-Fi 6E come in to provide ubiquitous, high-bandwidth, and cost-effective connectivity.
Wi-Fi 6 has seen substantial market adoption since its initial release in 2019, with nearly 2.3 billion device shipments expected this year1. Given the long development cycle and lifespan of vehicles, carmakers increasingly look to add the latest Wi-Fi technology. Wi-Fi 6E comes with extended capabilities that significantly benefit connected vehicles.
Tri-band capability: The 6 GHz band offers twice the spectrum of the 2.4 GHz and 5 GHz bands combined, with 14 additional 80 megahertz (MHz) channels and seven additional 160 MHz channels—essentially eliminating the congestion issues facing today's Wi-Fi networks. Connected vehicles will be able to connect to home or business networks or electric vehicle (EV) charging stations, with the best possible connection at that location. This would allow uploading terabytes of telematics data or downloading new firmware at much higher speeds, without interference or network congestion.
160 MHz wide channel: Existing connected cars today have 80 MHz capability with Wi-Fi 5. 160 MHz capability with Wi-Fi 6E can achieve 2.4 gigabytes per second (Gbps) speed in a 2x2 MIMO configuration 2.5 times faster when connecting to external Wi-Fi 6E networks. For an infotainment system distributing content inside the car as a hotspot, even a single stream network in 160 MHz can provide 1.2 Gbps capacity; more than sufficient for serving multiple passenger devices, rear seat displays, wireless cameras, etc., all at the same time. This drastically reduces the complexity and cost structure of the wireless subsystem while meeting next-generation needs.
Higher speed with advanced quadrature amplitude modulation (QAM): In Wi-Fi 6 and Wi-Fi 6E, higher modulation is applied to all three bands: 2.4 GHz, 5 GHz, and 6 GHz. As mentioned above, 5 GHz and 6 GHz speeds are 2.5 times faster than Wi-Fi 5.  Wi-Fi 6 also enhances speed and capacity in 2.4 GHz by around two times with advanced QAM. Higher speed means shorter airtime for a given amount of data transfer, which leads to lower power dissipation.
Extended range: Wi-Fi 6 and Wi-Fi 6E includes a range enhancement capability with a more robust packet structure as part of Wi-Fi CERTIFIED 6™ Release 2. This new capability provides a range boost for all modulation and coding scheme (MCS) rates. As connected cars increasingly leverage external Wi-Fi infrastructure to upload data, carmakers can take advantage of  the uplink extended range feature to enhance the performance of the connectivity link.
Low Latency: Only Wi-Fi 6E devices can access the 6 GHz band today. Therefore, 6 GHz usage will effectively be a greenfield with a more efficient protocol reserved for low-latency and timing-sensitive applications. Carmakers implementing Wi-Fi 6E in the infotainment system can advertise a much better user experience for rich multimedia and gaming services or phone connectivity such as Carplay.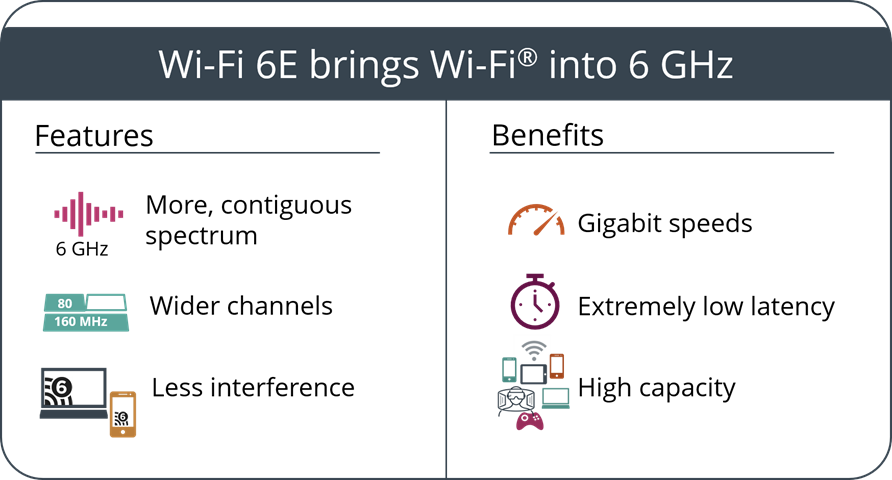 Transforming value chain and monetization
In addition to benefiting carmakers and consumers, intelligent, connected cars reward additional partners in the value chain.
Insurance providers can partner with carmakers to offer policies tailored to the individual driver based on driving behaviors such as route selection, braking pattern, and length of trips. They will leverage a massive amount of cloud data with sophisticated algorithms to analyze policy risk and offer innovative solutions.
As EV charging becomes more prevalent, carmakers can partner with EV charging providers to offer rich cloud services while the car is being charged and connected to the EV charging network over Wi-Fi.
The possibilities are endless in which a connected vehicle with data analytics can unlock new partnerships and monetization opportunities for the carmaker beyond traditional means.
Connectivity has increasingly been a flagship feature of any carmaker's offering. Consumers expect to be connected everywhere and to have access to seamless services, whether inside the car, parked at home, or waiting at an EV charging station. Wi-Fi is ubiquitous and continues to be the most robust and cost-effective connectivity technology for carmakers to create differentiation and unlock new revenue streams.
---
1 IDC Research, January 2022

Kevin Tang
Kevin  is a part of the Wireless, Connectivity, and Signal Process Division marketing team at onsemi. He brings 20 years of experience managing wireless connectivity portfolios and roadmap covering Wi-Fi, Bluetooth, GPS, NFC, and Zigbee , leading worldwide product marketing and business development across mobile, consumer, automotive, and enterprise markets. Before onsemi, Kevin led strategic planning and product marketing at Corigine in the telco and cloud data center space. Kevin holds an MBA from UC Berkeley Haas, MSEE from Stanford, and BSEE from the University of Illinois at Urbana-Champaign.
Follow Kevin Tang at: