Amid the global coronavirus pandemic, much of our daily lives has gone almost entirely online. Not only has the way we work and study changed dramatically in a matter of weeks, but the way we socialize, exercise, shop, and consume entertainment has also been transformed.
In these uncertain times, Wi-Fi® has become an essential means for connecting with colleagues, teachers, peers, friends, and family. Wi-Fi has provided critical infrastructure that allows the world to maintain productivity and necessary communication, even when most people are socially distancing. Wi-Fi has helped communities around the world remain strong in the face of sudden adversity.
According to a study by Opensignal, there has been a significant increase in the percentage of time smartphone users spend connected to Wi-Fi beginning in the third week of March. Opensignal observed that in in the largest metropolitan areas of the U.S., Wi-Fi use increased above the median average in a range between 5% and 20%. As more states began issuing stay-at-home orders in the fourth week of March, smartphone time spent on Wi-Fi increased again from 10% to 30% above the median average in these areas, while remaining elevated in others.
With the rise in online and mobile communications, service providers across the United States have seen their usage numbers surge in recent weeks. AT&T reports that Wi-Fi calling minutes are up 76% year over year, as more users turn to Wi-Fi as a more reliable indoor alternative to cellular. Comcast has seen a 24% increase in mobile data usage over Wi-Fi as more people rely on their services at home. Nokia has noted a 300% growth in remote conferencing apps during business hours, and Verizon reports a 47% increase in collaboration tools on its networks as collaboration moves out of office conference rooms and into virtual classrooms and meeting spaces.
In addition to providing much needed connectivity to users, the Wi-Fi community has taken action to ensure their customers stay connected, have access to important information, and have adequate resources during this time. Below are a few examples of the ways Wi-Fi Alliance® members are helping communities stay safe, informed, and connected.
Apple
To try to slow the spread of COVID-19 and clarify concerns about who should be tested, Apple released a screening app in the U.S. to help individuals determine whether they need to be tested for the illness and direct them to additional information from trusted medical sources
AT&T
All home internet customers, as well as fixed wireless internet customers, can use unlimited internet data
Schools have access to 60 days of unlimited data for laptops, tablets, and hotspots
Public Wi-Fi hotspots will remain open for anyone who needs them
Military personnel stationed on select Navy ships can make calls to their loved ones through April 30 at no cost
Comcast
Xfinity Wi-Fi hotspots located in businesses and outdoor locations across the country will be available to anyone who needs them – for free, even to users that are not Xfinity subscribers
Data plans will be paused for 60 days to give all customers unlimited data at no additional charge
Commscope
The global network infrastructure provider recently announced it donated 150 RUCKUS outdoor access points to the Information Technology Disaster Resource Center (ITDRC) in the U.S. to support Wi-Fi connectivity for makeshift field hospitals and disaster hot spots
Extreme Networks
Google
The internet search giant pledged $6.5 million to help journalists and support fact checking services in an effort to ensure clear advice and accurate information about the outbreak reaches the public
Intel
The Intel Foundation will provide $6 million to support coronavirus relief efforts in communities where the company has significant presence
The foundation will offer a special match opportunity for every regular full-time and part-time employee and U.S. retiree to a total of $2 million for relief efforts near major Intel sites
The donation will be distributed to community foundations and organizations that are focused on food security, shelter, medical equipment, and small-business support
To help with COVID-19 relief and what comes in its wake, including research to help prepare for future pandemics, Intel is donating $60 million
Laird Connectivity
In a letter sent to customers, the company announced it has adjusted its internal operations to prioritize servicing front line medical equipment being used with its Wi-Fi devices, such as patient monitors and oxygen concentrators
Orange
The French telecom provider established an €8 million crisis fund to supply personal protective equipment, provide support to medical professionals and fund initiatives to contain the spread of the disease in all countries it serves within Europe, Africa, and the Middle East
Microsoft
The tech giant joined a consortium of global companies to produce medical ventilators for the National Health Service (NHS) in the United Kingdom
The company donated $1 million to Puget Sound's COVID-19 Response Fund, an area in Washington state that was one of the hardest hit in the country during the early spread of the virus in the United States
To help track the spread of the virus, Microsoft marshalled its resources to create a COVID-19 Tracker that provides real-time updates on confirmed case numbers
Qualcomm
Sony
Sony established a $100 million global relief fund to support those around the world affected by the COVID-19 virus
Sony will provide support in three areas: assistance for those individuals engaged in frontline medical and first responder efforts to fight the virus, support for children and educators who must now work remotely, and support for members of the creative community in the entertainment industry
Verizon
The company will waive late fees and overage charges for residential and small business customers affected by COVID-19
Free international calling is allowed for consumer wireless and home voice customers to select countries, as well as unlimited domestic calling for wireless consumers on limited-minute plans
Vodafone UK and Telefonica
The telecom companies joined several other mobile operators in their pledge to the UK government to remove data caps in an effort to protect vulnerable customers during the pandemic
As our world replaces landline calls and face-to-face board meetings with Wi-Fi calling, video conferencing tools, and online messaging apps, we're grateful for a Wi-Fi community that helps deliver connectivity more broadly. Wi-Fi Alliance upholds its mission to connect everyone and everything, everywhere, and we applaud member companies' commitment to that mission as well.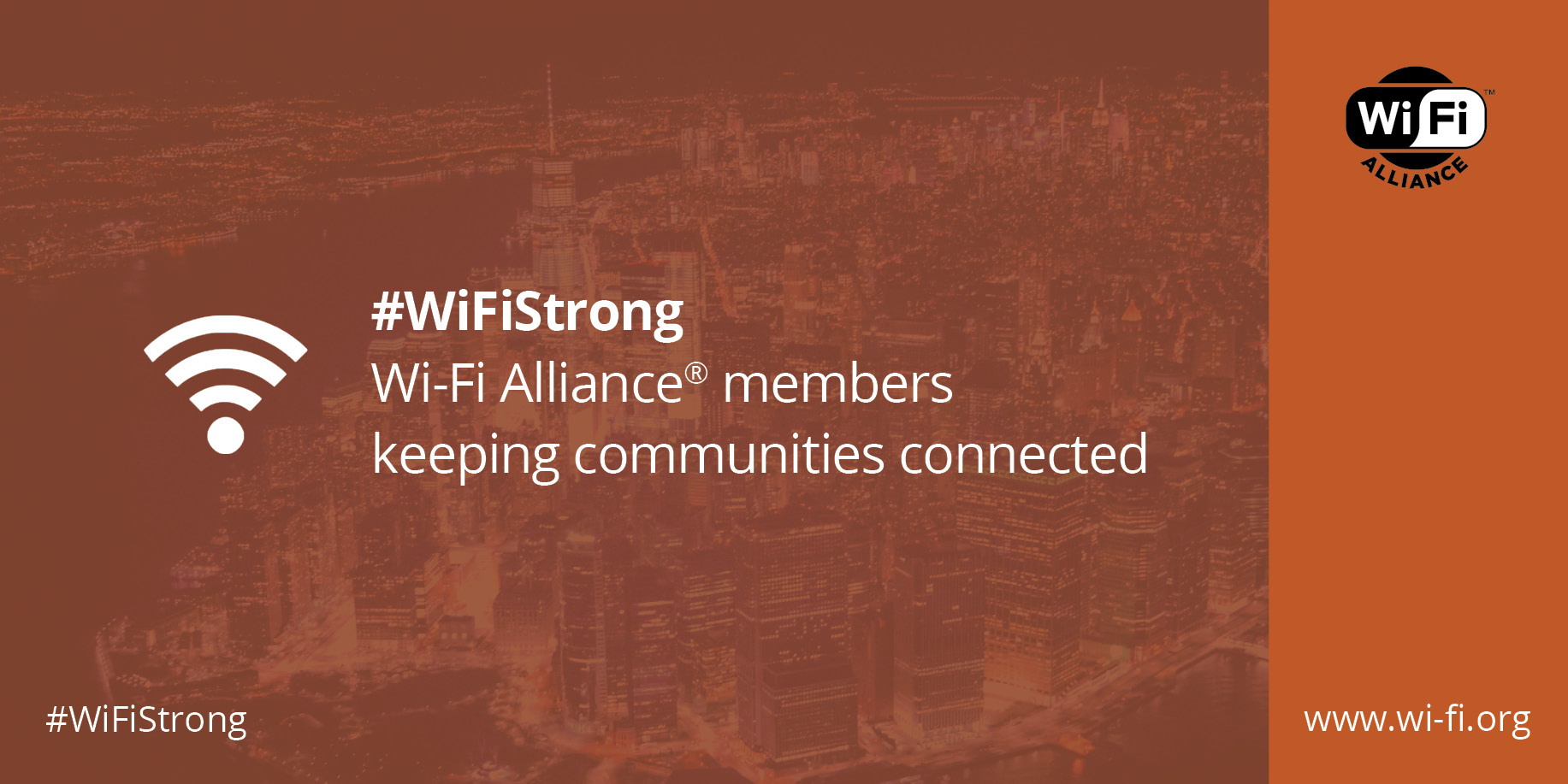 The statements and opinions by each Wi-Fi Alliance member and those providing comments are theirs alone, and do not reflect the opinions or views of Wi-Fi Alliance or any other member. Wi-Fi Alliance is not responsible for the accuracy of any of the information provided by any member in posting to or commenting on this blog. Concerns should be directed to info@wi-fi.org.