Wi-Fi® location technology involves advanced capabilities of regular Wi-Fi Access Points (APs) and Wi-Fi clients, which enable powerful applications such as 'step-by-step' indoor location and indoor asset tracking.
Bringing location positioning indoors
A significant part of the population is familiar with the location capabilities and applications offered by their smartphones or in-car navigation systems. Today's location determination is typically supported by a combination of satellite based systems (GPS), cellular networks, and crowd sourced Wi-Fi location databases. These technologies have provided remarkable benefits to end users, but their usages are still typically limited to outdoors. Wi-Fi location is intended to enable similar applications and usages indoors.
Technologies involved
The new core capability underlying the Wi-Fi location is the ability to determine the distance between two Wi-Fi devices (e.g. an Access Point and a handheld client) by measuring the time that it takes for the wireless signal to 'travel' from one device to the other. For example, we know that it takes 333 nanosecond for the signal to travel 100 meters (1 nanosecond is 0.000000001 seconds). The protocol that will be used for the message exchange between the devices regarding the time measurements is called the 'Fine Timing Measurement' (FTM) protocol and it has been standardized by the IEEE 802.11 working group.

Wi-Fi location will enable the following information exchanges:
Client can request an AP share its location (e.g. in latitude / longitude or as a civic address). The program is designed to cover situations whereby such information can be shared pre-association or post association (so an AP may have the ability to share its location to Clients that are not connected to that AP).
AP's can share information about their 'height', e.g. floor number or 'height above floor' with client devices
AP's can share a set of AP locations in the form of a 'neighbor report.' This is intended to significantly enhance the efficiency of the data exchange.
Request by an AP to a client to conduct a set of timing measurements with other access points
Request by an AP to ask a Client to report its location
Request by a Client to ask an AP to share a URI or Domain Name where additional assistance or maps and mapping data can be obtained
Negotiation between a Client and an AP to schedule timing measurements at pre-arranged times (up to 1.8 hours apart). This is intended to enable power efficient periodic positioning of devices.
The technology has been designed such that it should be up to the end user of the client device or the owner of the Wi-Fi network to decide whether they want to actually engage in a Wi-Fi location related message exchange. For example, an end user could decide not to share a device's location based on privacy or power consumption considerations. Alternatively, APs could only engage in Wi-Fi location exchanges with clients that possess certain credentials.
Indoor navigation
One of the most powerful capabilities of Wi-Fi location will be indoor navigation. For example, Wi-Fi location would support applications to assist in finding a conference room in a building, an appointment room in a hospital, a gate or concession stand in an airport etc. Another airport use case example would be to alert a traveler that they need to start moving to the gate in order to meet the scheduled departure time. To support these use cases, the venue owner will have to install multiple Wi-Fi location capable APs in the venue. Typically the client device needs to be within range of at least three APs at any given time, to enable effective triangulation. The end users will need to run an indoor location application on their device. This could be a generic location application, or a venue specific application. Key to indoor navigation assistance will be the availability of building maps or floor plans, and the exact locations of the APs in the venue. The mapping or floor plan interface is outside the scope of the Wi-Fi location program, but the program does support interoperability testing for the provisioning of a link to a 'location based services' server, which could include maps and map data.
Asset tracking and trouble shooting
In an enterprise or warehouse setting, Wi-Fi location capable networks and devices will enable the rapid detection and tracking of Wi-Fi location capable assets. Time saved in the manual discovery of equipment or devices can drive significant ROI's in enterprise or hospital settings – as just a few examples.
Retail analytics
Effective and accurate spatial tracking of consenting consumers in a retail setting can be highly valuable to retailers, venue owners, or brand owners. With the relatively high levels of accuracy and continuous tracking capabilities, Wi-Fi location capable devices and networks can provide highly accurate inputs into retail analytical systems.
Ecosystem
There are different sets of players involved in the Wi-Fi location ecosystem that each play a critical role.
The high level overview of the ecosystem is reflected in the Figure 1 below: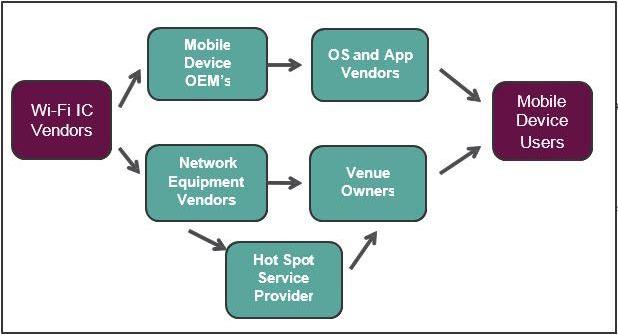 Market development for Wi-Fi location depends on the proliferation of the technology in enterprise and carrier grade Wi-Fi APs and network infrastructure, as well as the adoption by mobile devices vendors and OS and application developers. Given the level of granularity required for the time measurements, both infrastructure vendors and mobile device vendors will have to rely on newer generations of Wi-Fi IC's that have been designed with requirements in support of Wi-Fi location in mind.
For mobile handheld devices, there will be a critical role to play for OS developers who will have to add Wi-Fi location to their positioning / location engines. Application developers would typically leverage those expanded location engine capabilities of the OS's in their application development efforts.
Adoption by venue owners of the Wi-Fi location technology will be critical to ensure market place success for a number of the use cases. Venue owners could install Wi-Fi location capable infrastructure by themselves (e.g. college campuses, enterprises, hospitals), or could rely on service providers that provide Wi-Fi network coverage, e.g. in the case of some airports, malls or municipalities.

Wi-Fi location will deliver important benefits to all types of players in the ecosystem. A summary of the benefits for each player is included in Table 1 below:
Ecosystem Category

Key Benefits of Wi-Fi Location

Mobile Device User

Indoor Location Positioning support
Convenience in Wi-Fi Location enabled venues

---

Mobile Device OEM

Competitive advantage through indoor location capabilities
Increased feature richness

---

OS and Application Developer

OS differentiation
New applications, enhanced functionality
Services revenue

---

Network Equipment Vendor

Competitive advantage
Increased feature richness

---

Venue Owner

Increased convenience for visitors
Visitor movement tracking and analytics
Revenue generation opportunities

---

Hotspot Service Provider

Revenue opportunities from enhanced location data and analytics
Potential for differentiation of service

---

Wi-Fi IC Vendor

---
Table 1. Key benefits by ecosystem player category
Differences with beaconing approach
Beacons have gained a certain amount of market acceptance to support indoor location. These beacons are placed in certain locations in venues, and a device with internet connectivity is able to obtain valuable information regarding that location. Furthermore, the fact that the mobile device is in proximity of a certain beacon can be passed onto the 'cloud'. Wi-Fi location will significantly enhance the coverage, granularity, and real time movement guidance and tracking to the set of capabilities also offered by beacons.
Looking ahead
In the near future, there will likely be a set of devices and applications that benefit from Wi-Fi location capabilities. Wi-Fi location will enables usages such as discovery of peer devices, docking, door opening, lighting etc. For example when a user wants to connect their mobile device to a printer, or TV screen, an additional discovery data element can be the distance between the user and his or her mobile device and the device they want to connect to. Another example is that lights can turn on or off, based on the proximity of the user to a particular lighting zone. Wi-Fi Alliance® is scheduled to launch an interoperability certification program for Wi-Fi location technology in 2016.

The statements and opinions by each Wi-Fi Alliance member and those providing comments are theirs alone, and do not reflect the opinions or views of Wi-Fi Alliance or any other member. Wi-Fi Alliance is not responsible for the accuracy of any of the information provided by any member in posting to or commenting on this blog. Concerns should be directed to info@wi-fi.org.
An accurate and uncluttered articulation of state of affairs by a seasoned industry veteran. Look forward to yet another meaningful quality-of-life benefit of WiFi to be widely available to consumers soon !
Interesting subject. I see a huge potential in this way, as it is ideal for indoor marketing. Thumbs UP!
Add new comment