Top certifiers demonstrate commitment to Wi-Fi® quality
Austin, Texas – March 2, 2021 – Wi-Fi Alliance® is recognizing companies dedicated to the Wi-Fi CERTIFIED™ program, honoring members with the most Wi-Fi® devices certified in 2020. Wi-Fi CERTIFIED is an internationally-recognized brand for consumer, enterprise, and operator-specific products meeting industry-agreed standards for interoperability and security. Achieving product certification demonstrates a company's commitment to high quality Wi-Fi and ensuring a good user experience.
Wi-Fi CERTIFIED products undergo rigorous testing to validate interoperability with other certified equipment, giving users confidence that Wi-Fi products across many categories work well together. Devices from 2020 Top Certifiers include smartphones, chipsets, laptops, tablets, navigation systems, car infotainment systems, televisions, cameras, audio equipment, routers and gateways, lighting systems, and home designs. The list of 2020 Wi-Fi CERTIFIED leaders include:
Cisco Systems
Huawei Technologies Co., Ltd.
Lennar Ventures
LG Electronics
Panasonic Corporation
Samsung Electronics
Sony Corporation
Top Victory Investments Ltd.
WiZ – a Signify company
ZTE Corporation
Home Depot – Top New Certifier
"Wi-Fi Alliance members are driving Wi-Fi adoption worldwide, and their commitment to Wi-Fi CERTIFIED ensures the increasing number and variety of devices continue to work well together," said Edgar Figueroa, president and CEO, Wi-Fi Alliance. "Wi-Fi Alliance commends the companies earning this distinction for their commitment to Wi-Fi, to interoperability and to advancing the Wi-Fi user experience for all users."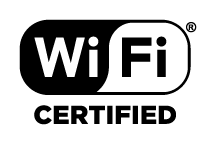 The year 2020 highlighted the importance of Wi-Fi in daily life, as users came to depend on reliable connectivity during the global pandemic. Wi-Fi device shipments reached nearly four billion in 2020, and the scenarios where Wi-Fi is used continued to expand. With the number of devices and applications growing each year, Wi-Fi CERTIFIED identifies Wi-Fi products providing the most consistent and reliable experience in all environments. Wi-Fi CERTIFIED provides companies with flexible testing options to ensure they can deliver the highest quality Wi-Fi whether certifying an access point, tablet, or smart home device. Users should look for the Wi-Fi CERTIFIED logo when making purchase decisions or view the Wi-Fi Alliance Product Finder for certified devices.
Please watch our video to learn more about the value of Wi-Fi CERTIFIED.
About Wi-Fi Alliance®
www.wi-fi.org
Wi-Fi Alliance® is the worldwide network of companies that brings you Wi-Fi®. Members of our collaboration forum come together from across the Wi-Fi ecosystem with the shared vision to connect everyone and everything, everywhere, while providing the best possible user experience. Since 2000, Wi-Fi Alliance has completed more than 65,000 Wi-Fi certifications. The Wi-Fi CERTIFIED™ seal of approval designates products with proven interoperability, backward compatibility, and the highest industry-standard security protections in place. Today, Wi-Fi carries more than half of the internet's traffic in an ever-expanding variety of applications. Wi-Fi Alliance continues to drive the adoption and evolution of Wi-Fi, which billions of people rely on every day.
Follow Wi-Fi Alliance:
wi-fi.org/beacon
facebook.com/wificertified
twitter.com/wifialliance
linkedin.com/company/wi-fi-alliance
Media Contact:
Stephanie Burke
Highwire PR for Wi-Fi Alliance
wi-fi@highwirepr.com