From virtual assistant technologies to smart home devices, Internet of Things (IoT) technology is everywhere. One of the fastest growing additions to the IoT universe is vehicles, with connectivity reshaping the automotive industry. Leveraging Wi-Fi®, the systems within vehicles are beginning to communicate with one another — and to entities outside the vehicle as well. In fact, market sizing forecasts show that 40 percent of cars will be self-aware and capable of sharing information on mechanical health and surroundings by 2025.[1] This greater connectivity will allow vehicle manufacturers to improve vehicle utility by keeping cars up to date on the latest firmware without owners bringing them into dealerships. More importantly, drivers will be safer because these firmware updates fix malfunctioning components, and enhanced communication between vehicle systems permits alerts of ailing mechanical health, such as worn brake pads.
Automotive gateways connect vehicle systems and transmit valuable information
Key to vehicle communication is the connection between the infotainment system — including touch screens, navigation systems, and cameras — and the telematic control unit (TCU), which collects data such as position and speed and monitors engine, drivetrain, steering, and braking systems. Connecting these two systems using an automotive gateway enables vehicles to present mechanical health information to drivers and transmit valuable data to vehicle manufacturers using secure, two-way, over-the-air (OTA) communications and data transfers via Wi-Fi.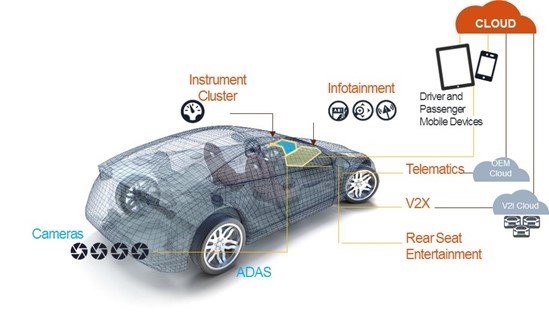 Figure 1: Automotive gateway connected communication system
Automotive gateways require highly capable processors to support both high performance requirements while the vehicle is in motion as well as low power connectivity when the vehicle is parked. To meet these varied demands, vehicles should combine a high performance ARM processor to support fully active system operations with a low power ARM processor for vehicle-to-infrastructure connectivity while the vehicle is operating on battery power. Security requirements for processors are complex, requiring the protection of data flowing through the infotainment system, the TCU, and the automotive gateway. All Wi-Fi enabled systems should be protected by strong WPA3™ security, which adds new features to enable more robust authentication, deliver increased cryptographic strength, and maintain resiliency of networks. Wi-Fi CERTIFIED 6™ will enable seamless connections across multiple devices in congested environments, support higher performance infotainment use cases, as well as allow cars to transfer information at high data rates when connected to external access points for automotive services.
Over-the-air software updates enhance safety
For vehicle manufacturers, the current process for delivering software updates to a vehicle is highly dependent on voluntary action by the vehicle owner. Necessary updates are often never completed if the vehicle owner fails to take the car to a dealership. In some cases, the lack of such updates can lead to dangerous situations, such as when they involve drivetrain or braking system issues. With the secure OTA communication capabilities supported by Wi-Fi and automotive gateways, vehicle manufacturers will be able to provide rapid software updates (thanks to Wi-Fi 6) without the owner bringing the vehicle to a dealership. In addition, cloud-based systems will be able to monitor and analyze vehicles in real-time and notify owners of problems, such as worn brakes or necessary preventive maintenance. Together, Wi-Fi supports in-vehicle capabilities that improve safety and reduce the overall cost of ownership and accident liability for insurance carriers.
An additional capability enabled by automotive gateways is linking on-board cameras and accelerometer sensors embedded in the vehicle's bodywork together with its data storage systems. As an example of what these capabilities can enable: if a second car strikes a parked vehicle, a motion sensor can trigger an alert to a microprocessor in the automotive gateway, which then activates the vehicle's cameras and initiates capture of the video streams, which it stores in the onboard data storage system. Simultaneously, the automotive gateway can send a notification via Wi-Fi to the vehicle owner's smartphone to alert them of the event and even stream the captured video. The automotive gateway can provide the same information to an insurance carrier. Together, these systems provide ample evidence for determining fault and help ensure a smooth payout process. In a hit-and-run situation, these technologies become especially useful.
Preparing for the future
As vehicles make increasing use of Wi-Fi connectivity to enhance utility and safety, the automotive gateway will serve as a link between the vehicle and the surrounding infrastructure. Vehicles are becoming smarter, more sophisticated, and capable of leveraging the latest communication protocols, making it increasingly necessary to equip them with advanced technology that can interoperate with multiple systems. The automotive gateway is one such technology and Wi-Fi Alliance urges vehicle manufacturers to adopt the latest Wi-Fi certifications in order to prepare themselves for advancements to come.
---
[1] Markets and Markets, 2021
The statements and opinions by each Wi-Fi Alliance member and those providing comments are theirs alone, and do not reflect the opinions or views of Wi-Fi Alliance or any other member. Wi-Fi Alliance is not responsible for the accuracy of any of the information provided by any member in posting to or commenting on this blog. Concerns should be directed to info@wi-fi.org.