Wi-Fi Alliance® certification program supports next generation Wi-Fi®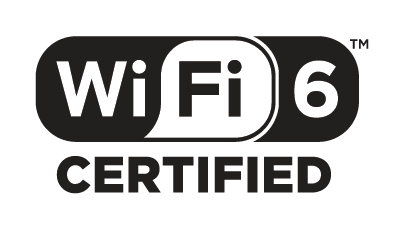 Austin, TX and Las Vegas, NV – January 8, 2019 – With industry momentum mounting around Wi-Fi 6, Wi-Fi Alliance® introduces Wi-Fi CERTIFIED 6™ to ensure devices based on IEEE 802.11ax technology meet industry agreed standards for interoperability and security. The Wi-Fi Alliance certification program, coming in the third quarter of 2019, will provide capacity, coverage, and performance required by users to experience next generation Wi-Fi® use cases, from streaming ultra high-definition (Ultra HD) movies to mission critical business applications.
Advanced capabilities supported by Wi-Fi CERTIFIED 6 bring innovation for Wi-Fi to excel even in diverse Wi-Fi environments with many devices. Key benefits include higher data rates, increased network capacity, improved performance in congested environments, and improved power efficiency. These capabilities include:
Uplink and downlink orthogonal frequency division multiple access (OFDMA): increases network efficiency and lowers latency for high demand environments
Multi-user multiple input multiple output (MU-MIMO): allows more data to be transferred at once and enables an access point to transmit to a larger number of concurrent clients at once
Transmit beamforming: enables higher data rates at a given range resulting in greater network capacity
1024 quadrature amplitude modulation mode (1024-QAM): increases throughput in Wi-Fi devices by encoding more data in the same amount of spectrum
Target wake time (TWT): significantly improves battery life in Wi-Fi devices, such as Internet of Things (IoT) devices
Earlier this year, Wi-Fi Alliance introduced a new consumer friendly naming structure that provides users with an easy to understand designation for both the Wi-Fi technology supported in their device and the Wi-Fi technology available for the connection to a network. Recent polling data by Wakefield Research on behalf of Wi-Fi Alliance indicates more than half of users want the latest technology in their devices, but nearly three-quarters of respondents avoid buying devices when it is too difficult to understand technical labels and descriptions. New generational terminology will help consumers more easily identify devices with the latest Wi-Fi technology and better understand if devices will deliver the expected Wi-Fi experience.
"Wi-Fi continues to be a predominant technology for accessing the internet, with a strong history of success," said Andrew Zignani, Senior Research Analyst, ABI Research. "Wi-Fi CERTIFIED 6 will further escalate Wi-Fi's role, with more than one billion Wi-Fi 6 chipsets expected to be shipped annually in 2022."
Wi-Fi 6 products will be prominently featured at #CES2019. High-performance access points, laptops, and other new products will be displayed by Wi-Fi Alliance members on the show floor. Wi-Fi 6 devices will enhance the user experience in both consumer and enterprise applications and will be particularly useful in homes, smart cars, businesses, e-Learning, IoT, stadiums, public venues, and transportation hubs. Wi-Fi 6 will support a range of use cases in these scenarios, including high-definition streaming, virtual reality, interactive HD and 4K video, asset tracking and sensors, and more efficient uploading and downloading capabilities.
"Wi-Fi 6 delivers features to satisfy users' evolving connectivity needs and to enable more efficiency in the expanding places where users rely on Wi-Fi," said Edgar Figueroa, president and CEO, Wi-Fi Alliance. "Wi-Fi CERTIFIED 6 continues a nearly 20-year history of providing standards-based, interoperability testing to ensure Wi-Fi devices meet expectations for quality and interoperability."
For more information on Wi-Fi CERTIFIED 6, please visit: https://www.wi-fi.org/discover-wi-fi/wi-fi-certified-6.
Industry support for Wi-Fi CERTIFIED 6
"Wi-Fi 6 is expected to bring increased speed and capacity, and it will more efficiently support the increasing density of devices in the connected home with lower latency and enhanced battery life. Coupled with AirTies' Smart Wi-Fi software and cloud-based management, operators will be able to upgrade Wi-Fi performance and coverage, proactively fix and monitor Wi-Fi issues, and improve overall customer satisfaction for the super connected homes of tomorrow." – Metin Taskin, CTO of AirTies
"Wi-Fi 6 is a welcomed improvement in a technology that has revolutionized how people manage their lives and connect with others, and what most enterprises rely on as the backbone of their business. Wi-Fi CERTIFIED 6 will be an important step in ensuring the best user experience, and ARRIS looks forward to certifying Wi-Fi CERTIFIED 6 solutions that improve connectivity and Wi-Fi management in the most demanding residential and enterprise environments, including hospitality, education, outdoor venue, and smart city applications." – Charles Cheevers, CTO, Customer Premises Solutions at ARRIS
"The sixth generation of Wi-Fi is here today. Market-leading Wi-Fi 6 routers, powered by Broadcom's chips, are already available at retail outlets including Amazon and Best Buy. 2019 will be the year of Wi-Fi 6 as it rapidly proliferates with smart phones. The wireless experience on our mobile phones will now be ever so swift, secure, and steady as we seamlessly stream or share our digital memories. So don't forget to ask for Wi-Fi 6 when you buy your new phone or wireless router this year." – Vijay Nagarajan, Vice President of Marketing, Mobile Connectivity Division at Broadcom
"The rollout of this Wi-Fi 6 certification is another exciting step forward for the unlicensed ecosystem. Wi-Fi 6 brings enhanced performance to connected environments and will be key for powering next generation use cases. As the industry gathers at #CES2019, the inherent strengths of Wi-Fi will be front and center and Wi-Fi 6 will demonstrate how wireless is being reimagined." – Dr. Derek Peterson, CTO, Boingo Wireless
"CEVA is proud to release Wi-Fi 6 MAC and modem IP platforms to the market and we look forward to achieving W-Fi CERTIFIED 6 status once available. Our existing Wi-Fi 4 and Wi-Fi 5 customers are already upgrading to Wi-Fi 6 to benefit from the host of new features and the impressive performance and power consumption improvements that this latest generation standard provides. We expect Wi-Fi 6 to be widely adopted across mobile, smart home, networking, and the Internet of Things." – Aviv Malinovitch, GM of the Connectivity BU at CEVA
"Wi-Fi 6 deepens and expands Wi-Fi as the de facto home networking technology, offering uninterrupted, long-range performance for high-density networks of connected automation and media devices. The efficient and scheduled network performance of Wi-Fi 6 enables Cypress to bring a more robust user experience from the home to in-car infotainment with advanced media coexistence and power efficient networking." – Brian Bedrosian, vice president of marketing for the IoT Compute and Wireless Business Unit at Cypress Semiconductor Corp.
"2019 will be a breakout year for Wi-Fi users who will be amazed at what their devices will accomplish for the next-generation of consumer and business applications resulting from the performance and security enhancements realized by Wi-Fi CERTIFIED 6 ("Wi-Fi 6") infrastructure. Users will also receive an operator-grade radio experience, enabling 5G networks to seamlessly incorporate Wi-Fi 6 for additional capacity. As always, Aruba will continue to ensure our networking technologies are fully compliant with Wi-Fi Alliance certification standards for interoperability and security." - Chuck Lukaszewski, vice president of wireless strategy and standards for Aruba, a Hewlett Packard Enterprise company
"Wi-Fi 6 is a game changer in connectivity, offering consumers exactly what they are seeking – the fastest, most responsive and reliable Wi-Fi for their always-connected lives. Intel supports Wi-Fi 6 and is on track for Wi-Fi CERTIFIED 6 solutions for both PCs and home routers and gateways to ensure our market-leading products deliver the best possible connected experiences." – Eric McLaughlin, General Manager of Wireless Solutions Group, Intel Corporation
"Marvell remains at the forefront of wireless solutions with innovations like Wi-Fi 6, which will greatly improve the reliability and security for users. Marvell has worked closely with Wi-Fi Alliance to bring this technology to market and is one of the first to offer a full line of products that fully implement Wi-Fi 6 capabilities." - Mark Montierth, Vice President and General Manager, Wireless Connectivity Business Unit at Marvell Semiconductor
"As a global leader in the shipment of Wi-Fi enabled products, we recognize the importance of Wi-Fi Alliance certification as we bring the latest Wi-Fi technologies to a widening base of consumers and enterprises, and we are a proud supporter of the forthcoming interoperability program for Wi-Fi 6 (11ax). With our long history of collaboration with Wi-Fi Alliance, and extensive support of program development and interoperability test beds for new Wi-Fi programs, you can expect to see Qualcomm Technologies, and our mobile and infrastructure customers, to receive this vital Wi-Fi CERTIFIED 6 designation by Wi-Fi Alliance," said Rahul Patel, senior vice president and general manager, connectivity and networking, Qualcomm Technologies, Inc.
"Quantenna welcomes Wi-Fi CERTIFIED 6 and the significant benefits it has to offer. We are offering a full array of Wi-Fi 6 products and plan to actively participate in the Wi-Fi CERTIFIED 6™ program. By full implementation of this program, we continue our commitment to enhance connectivity for an exceptional user experience." – Ambroise Popper, vice president of strategy and corporate marketing, Quantenna
About Wi-Fi Alliance®
www.wi-fi.org
Wi-Fi Alliance® is the worldwide network of companies that brings you Wi-Fi®. Members of our collaboration forum come together from across the Wi-Fi ecosystem with the shared vision to connect everyone and everything, everywhere, while providing the best possible user experience. Since 2000, Wi-Fi Alliance has completed more than 45,000 Wi-Fi certifications. The Wi-Fi CERTIFIED™ seal of approval designates products with proven interoperability, backward compatibility, and the highest industry-standard security protections in place. Today, Wi-Fi carries more than half of the internet's traffic in an ever-expanding variety of applications. Wi-Fi Alliance continues to drive the adoption and evolution of Wi-Fi, which billions of people rely on every day.
Media contacts:
Andrea Torres
Highwire PR for Wi-Fi Alliance
wi-fi@highwirepr.com
+1-415-963-4174 ext. 13
Methodological note: The Wi-Fi Alliance Survey was conducted by Wakefield Research (www.wakefieldresearch.com) among 1,000 U.S. adults, ages 18+, between December 14 and December 19, 2018, using an email invitation and an online survey. Quotas have been set to ensure reliable and accurate representation of the U.S. adult population 18 and older.
Results of any sample are subject to sampling variation. The magnitude of the variation is measurable and is affected by the number of interviews and the level of the percentages expressing the results. For the interviews conducted in this particular study, the chances are 95 in 100 that a survey result does not vary, plus or minus, by more than 3.1 percentage points from the result that would be obtained if interviews had been conducted with all persons in the universe represented by the sample.