The year 2020 was monumental for Wi-Fi®. The United States, the United Kingdom, South Korea, and Chile designated the 6 GHz band for unlicensed use, a slew of additional countries explored opening the band, Wi-Fi Alliance® introduced the Wi-Fi 6E branding, and top Wi-Fi innovators announced a variety of new products.
And it's already been a busy start to 2021 for 6 GHz Wi-Fi.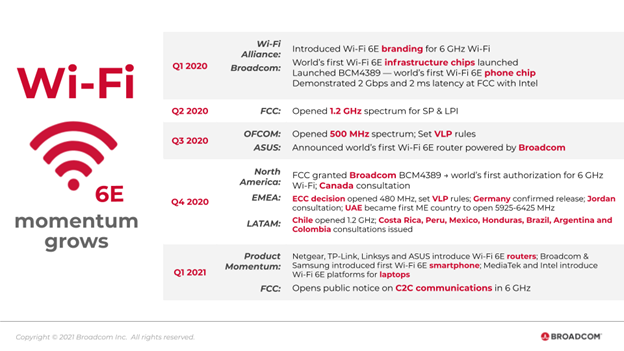 Wi-Fi 6E — it's certifiably fast, and it's here
Last week, Wi-Fi Alliance launched its Wi-Fi 6E certification program, and Wi-Fi 6E devices are already being certified. At CES this week, access point vendors, such as TP-Link unveiled Wi-Fi 6E routers. Intel also announced an update to its vPro platform and MediaTek received FCC certification, both of which bring Wi-Fi 6E to laptop computers.
Just yesterday, at its annual Unpacked event, Samsung introduced the world's first Wi-Fi 6E phone: the Galaxy S21 Ultra, which is powered by Broadcom's BCM4389 chip. The GS21 Ultra has five cameras to develop ultra-rich media, and consumers can share what they create with blisteringly fast Wi-Fi 6E.
Wi-Fi 6E enables these advanced applications and 5G services by taking advantage of brand new spectrum: 1,200 MHz of open airwaves in the 6 GHz band. The seven new 160 MHz channel bandwidths will double Wi-Fi speeds and cut latency in half compared to Wi-Fi 5. In fact, the BCM4389 delivers over 2 Gbps of real-world speeds, up to five times better battery utilization, improved coverage, and ultra-low latency — less than 1 ms. The reliable, high-speed connections of Wi-Fi 6E bring the classroom or the office into a smartphone.
With Wi-Fi 6E, the smartphone becomes a smart hub or smart computing platform, allowing consumers to connect to peripheral devices such as AR/VR glasses, smart speakers, TVs, and the ever-growing number of home networking devices without any decrease in performance. Gamers will delight in gaming without glitches or delays.
So why should consumers get excited about this Wi-Fi innovation? A handheld Wi-Fi 6E device is a gamechanger for two reasons: a fast, flawless user experience and the various innovative use cases that it will fuel.
Enabling the next generation of use cases
Wi-Fi 6E will be a workhorse for powering 5G services, making it an ideal solution for flagship smartphones, laptops, AR and VR devices, and future Internet of Things (IoT) innovations.
In a video-first world, Wi-Fi 6E empowers consumers with a clean frequency band that delivers multi-gigabit speeds. A Wi-Fi 6E smartphone like the Galaxy S21 Ultra will enable ultra-high-definition video streaming and multiparty video conferencing, making working and playing from home a breeze. This will speed the proliferation of 8K video, casting, and more. And, with the ability to download a movie, photo, or file at speeds over a gigabit per second, sharing becomes nearly instantaneous.
With 160 MHz channels, Wi-Fi 6E will enable more precise Wi-Fi location indoors, where GPS location is not as accurate. This will enable applications, such as asset tracking, emergency services, and keyless entry. In the not-so-distant future, you will be able to list the items you wish to buy in an application and be provided aisle-to-shelf routing throughout the store to pick up your merchandise on the exact shelf on which it is located—first using your smartphone, and in the future with your AR glasses.
Wi-Fi 6E will also leverage important peer-to-peer Wi-Fi technologies to improve Client-to-Client communications. Imagine sharing 8K videos with your family or friends after a trip in the blink of an eye, or blisteringly fast transfers for unified communications across various devices, both in the workplace and at home. Be it automating school attendance or securely printing documents without having to log in to a network, these applications will work even better.
The vast amount of 6 GHz spectrum, along with Wi-Fi 6E scheduling, will limit channel contention. Not only will this provide the world's best gaming experience, but it will also enable immersive educational opportunities for students and training exercises for employees. Walmart, which uses virtual reality to train employees for Black Friday crowds, could soon use VR glasses and a compute device contained in a smartphone. All these next-generation applications exist in the palm of the hand.
2021: The year of Wi-Fi 6E
This will undoubtedly be the year of Wi-Fi 6E. Now more than ever, the benefits of wireless connectivity are more valuable than we ever imagined. From supporting a portion of our workforce with remote working to helping educate our children with distance learning, Wi-Fi truly is the backbone of our economy.
Thanks to strong regulatory momentum and industry efforts, Wi-Fi 6E will quickly proliferate in phones, PCs, and other devices this year. This technology offers disruptive speeds and low latency benefits, and consumers and enterprises alike will see this value. A vibrant ecosystem of Wi-Fi 6E end devices will burgeon this year and the world will be unmistakably replete with Wi-Fi.
Today, with Wi-Fi 6E smartphone, laptops, and routers already available, the next generation has arrived, and consumers' wireless experience will never be the same.
The statements and opinions by each Wi-Fi Alliance member and those providing comments are theirs alone, and do not reflect the opinions or views of Wi-Fi Alliance or any other member. Wi-Fi Alliance is not responsible for the accuracy of any of the information provided by any member in posting to or commenting on this blog. Concerns should be directed to info@wi-fi.org.