Wi-Fi® at CES 2018
January 08, 2018 by The Beacon
For a look at the newest innovative Wi-Fi products being introduced to the world this year, check out the map highlighting Wi-Fi Alliance members demonstrating the latest innovations at  #CES2018 and follow @WiFiAlliance on Twitter.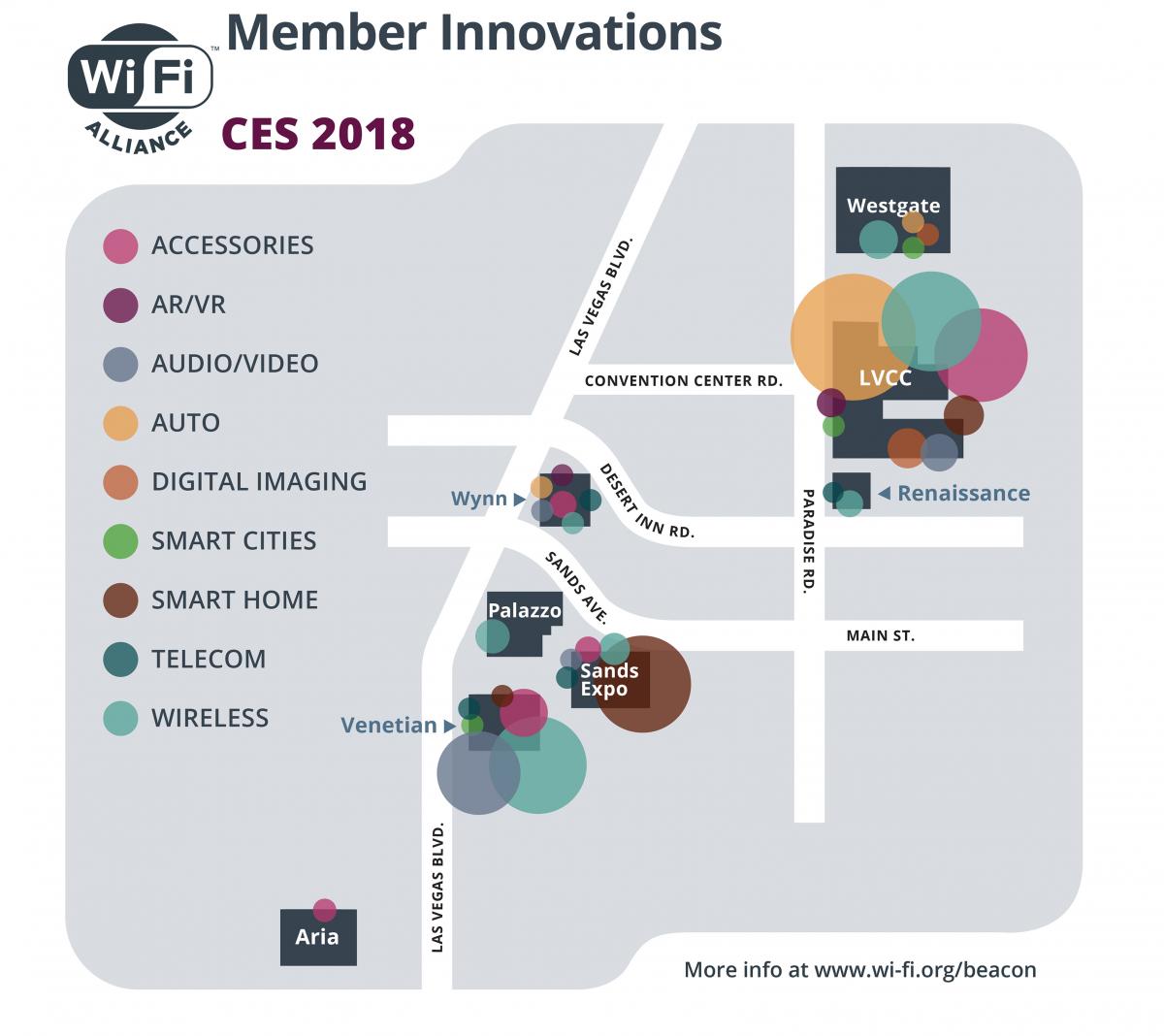 As the Consumer Electronics Show (CES) enters its 51st year, new and well-known innovators in technology will continue to make waves in connecting our lives. Last year's show saw consumer adoption of smart home technology reach new growth because of popular voice assistants from Amazon and Google. Fueled by innovations in connectivity such as Wi-Fi CERTIFIED WiGig™, virtual reality also made leaps, becoming a popular consumer entertainment advancement of 2017 and one that will continue well into 2018.
In 2018, connectivity will continue to be the backbone of innovation – with Wi-Fi at the forefront. The next generation of Wi-Fi will drive new advancements in speed and ease of use for consumers in a variety of network environments, opening more possibilities for wireless innovation.
At CES 2018, the importance of Wi-Fi will be seen throughout the show floor. Wi-Fi is incorporated into many of the tech innovations we'll hear about all week.
What to expect at CES 2018
Voice takes a new role in smart homes: As consumers continue to rely on voice assistants and companies integrate the feature in new technology, voice will become a must-have in smart home products. At CES, Wi-Fi Alliance members such as Samsung and Google will reveal the latest innovations and speak on panels discussing voice as an interface for the smart home.
Automotive tech goes mainstream: From connected car devices providing meaningful insights into vehicle performance to paving the way for smarter transportation systems, Wi-Fi Alliance members will drive conversations focused on how automotive technology will change the way we travel. Wi-Fi Alliance members such as Honda, Panasonic, Ford, Toyota and Volkswagen will showcase and discuss the technologies that are revolutionizing the industry.
IoT innovates industries: CES is the place to see how the IoT will continue to transform and expand its role in our lives. From smart cities and homes to audio/video, visit the key areas shown on the map below to see the latest IoT connected products from Wi-Fi Alliance members.
Advancements in Wi-Fi and the larger connected ecosystem are due to the leadership of member companies working in Wi-Fi Alliance – many of which are attending #CES2018. Wi-Fi certification programs will be seen throughout the show floor and are enabling many CES innovations:

The Beacon
Follow The Beacon at: