The year 2020 highlighted the importance of Wi-Fi® in our lives, as users around the world came to rely on Wi-Fi more than ever for teleworking, virtual learning, and staying connected with friends and family during a global pandemic. In 2020, Wi-Fi shipments reached nearly four billion, with cumulative shipments reaching more than 33 billion. Nearly 15 billion devices are in use today.1 Wi-Fi Alliance® continued to lead industry innovation by developing two new certifications—Wi-Fi CERTIFIED 6™ with Wi-Fi 6E and Wi-Fi CERTIFIED QoS Management™—as well as enhancing existing certification programs, including, Wi-Fi CERTIFIED Easy Connect™, Wi-Fi CERTIFIED EasyMesh™, Wi-Fi CERTIFIED Optimized Connectivity™, Wi-Fi CERTIFIED Vantage™, and Wi-Fi CERTIFIED WPA3™.
Wi-Fi Alliance members are driving Wi-Fi adoption worldwide, and their commitment to Wi-Fi CERTIFIED™ ensures the increasing number and variety of devices continue to work well together. Wi-Fi Alliance is proud to recognize the industry's "Top Certifiers," honoring member companies with the most product certifications in 2020. These members have demonstrated their commitment to the highest quality Wi-Fi experience, with certified devices including smartphones, chipsets, laptops, tablets, navigation systems, car infotainment systems, televisions, cameras, audio equipment, routers and gateways, lighting systems, and home designs. The 2020 Wi-Fi CERTIFIED leaders include:
Cisco Systems
Huawei Technologies Co., Ltd.
Lennar Ventures
LG Electronics
Panasonic Corporation
Samsung Electronics
Sony Corporation
Top Victory Investments Ltd.
WiZ – a Signify company
ZTE Corporation
Home Depot – Top New Certifier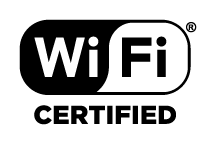 Wi-Fi CERTIFIED is an internationally recognized brand for consumer, enterprise, and operator-specific products, with certified devices undergoing rigorous testing to validate their interoperability with other Wi-Fi CERTIFIED devices, ensuring they provide the most consistent and reliable experience in all environments. For a list of Wi-Fi CERTIFIED devices of our award winners and other Wi-Fi Alliance members, visit the Wi-Fi Alliance Product Finder.
Congratulations to the Wi-Fi Alliance 2020 Top Certifiers and thank you for your commitment to the best possible Wi-Fi user experience!
The statements and opinions by each Wi-Fi Alliance member and those providing comments are theirs alone, and do not reflect the opinions or views of Wi-Fi Alliance or any other member. Wi-Fi Alliance is not responsible for the accuracy of any of the information provided by any member in posting to or commenting on this blog. Concerns should be directed to info@wi-fi.org.