Wi-Fi Home Design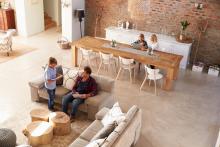 為家庭提供集成的、完整的Wi-Fi覆蓋
家庭中的Wi-Fi已經從便利設施發展成為預期的實際用途。作為越來越多的智慧家居產品和系統的支援平臺,Wi-Fi帶來的連通性是家庭生活的重要組成部分。Wi-Fi 家居認證計畫™是由Wi-Fi聯盟提供認證的項目,它可以讓新的房屋建築商在家裡以及室外生活空間提供內置的Wi-Fi網路。
搬進新居後,購房者進入房屋,電力和照明系統作為基礎設施即可正常使用。現在新的購房者可以在Wi-Fi家用網路上受益於同樣的託管方式。Wi-Fi家居設計計畫整合專業設計的Wi-Fi網路直接集成到建築設計中。根據每個樓層的房屋大小、數量和牆壁組成來提供全覆蓋的Wi-Fi網路。採用高品質、雙波段Wi-Fi認證的交流設備和專業安裝,Wi-Fi家庭設計計畫為新居帶來全面,高性能的Wi-Fi網路。
為家庭提供一站式面向未來的Wi-Fi
Wi-Fi家居設計不僅使房屋建築商擴展他們的產品,還給購房者帶來便利,讓他們安心,並且享受到卓越的用戶體驗。在房屋建成後,不需要購買和安裝Wi-Fi接入點。Wi-Fi家居計畫網路已經準備就緒,並經過優化,以支援未來智慧家居設備和系統的不斷發展。
與建築安裝照明方案類似,一站式Wi-Fi家居設計網路是專業設計和可執行的,為家庭所有部分提供可靠的、可擴展的、高性能的Wi-Fi網路。
Wi-Fi家居設計網路交付:
全家庭覆蓋:基於家居規範的接入點優化配置,提供可靠的、一致的覆蓋,不論網站的位置,包括車庫、庭院和甲板。
卓越的用戶體驗:採用最新的雙波段Wi-Fi 認證™ ac設備,Wi-Fi家居設計網路很容易適應各種各樣的流量需求——從4K視頻流到激烈的同時線上遊戲。
持久滿意度:Wi-Fi家居設計網路考慮到未來的聯網生活和Wi-Fi的使用,允許越來越多的智慧生活設備和系統在家裡輕鬆實現。
有興趣想要在新建造的房屋中獲得更多Wi-Fi體驗的購房者應該向房屋建築商索取一套Wi-Fi家居設計平面佈置圖。
認證的家居設計
Download Additional Resources
Frequently Asked Questions
Why has Wi-Fi Alliance created a home certification?

Home owners require wireless connectivity in their homes and builders are beginning to pre-install Wi-Fi into new homes. Wi-Fi Alliance worked with the home building community to create a program that ensures their installations provide new homes with reliable, consistent coverage and Wi-Fi CERTIFIED equipment to provide a turnkey, high performance Wi-Fi experience in the home.

What types of homes are this certification for?

Currently, the Wi-Fi CERTIFIED Home Design certification is for newly built, single-family, detached dwellings.

What is the process for getting a floorplan certified?

For builders to certify their design offerings:

Join Wi-Fi Alliance as a Contributor or Small Business Introductory Participant member to be eligible to apply for the Wi-Fi Home Design certification
Follow the Wi-Fi Home Design program guidelines, which are available internally to members
Submit all required information to Wi-Fi Alliance
Once all program requirements are met and verified, the vendor's floorplan receives certification

Please note:

Each home design, or floorplan, receives a separate and unique certification based upon that plan meeting the program's requirements
Program guidelines require that the member collect and submit a package of information describing specific information about the home network design associated with each floorplan. Information includes, but is not limited to:

Number and type of access points to be deployed
Site survey of the entire floorplan
Equipment list, and other information as appropriate

If I remodel my home can I get a Wi-Fi CERTIFIED floorplan?

The first stage for the Wi-Fi CERTIFIED Home Design program is for newly built homes. Future stages of the program may address the existing home market.

Will my existing router work with a Wi-Fi CERTIFIED Home Design home?

To be considered a Wi-Fi CERTIFIED Home Design plan, new home buyers should retire their existing equipment. Wi-Fi Home Design plans integrate the most recent technology to provide the most successful Wi-Fi experience.