Wi-Fi® is one of the greatest success stories of the technology era, and a key to continued social and economic growth. Individuals, families, governments, and global organizations depend on Wi-Fi every day. It has connected and entertained users through crises, helped transform education, extended the capabilities of healthcare providers, and assisted in the creation of new technologies, industries, and careers the world over—even into space.
In addition to its well-known societal benefits, Wi-Fi provides significant benefits to economies worldwide. The global economic value of Wi-Fi is estimated at more than $3.5 trillion USD, according to a study commissioned by Wi-Fi Alliance®. By 2025 that value is expected to grow to nearly $5 trillion.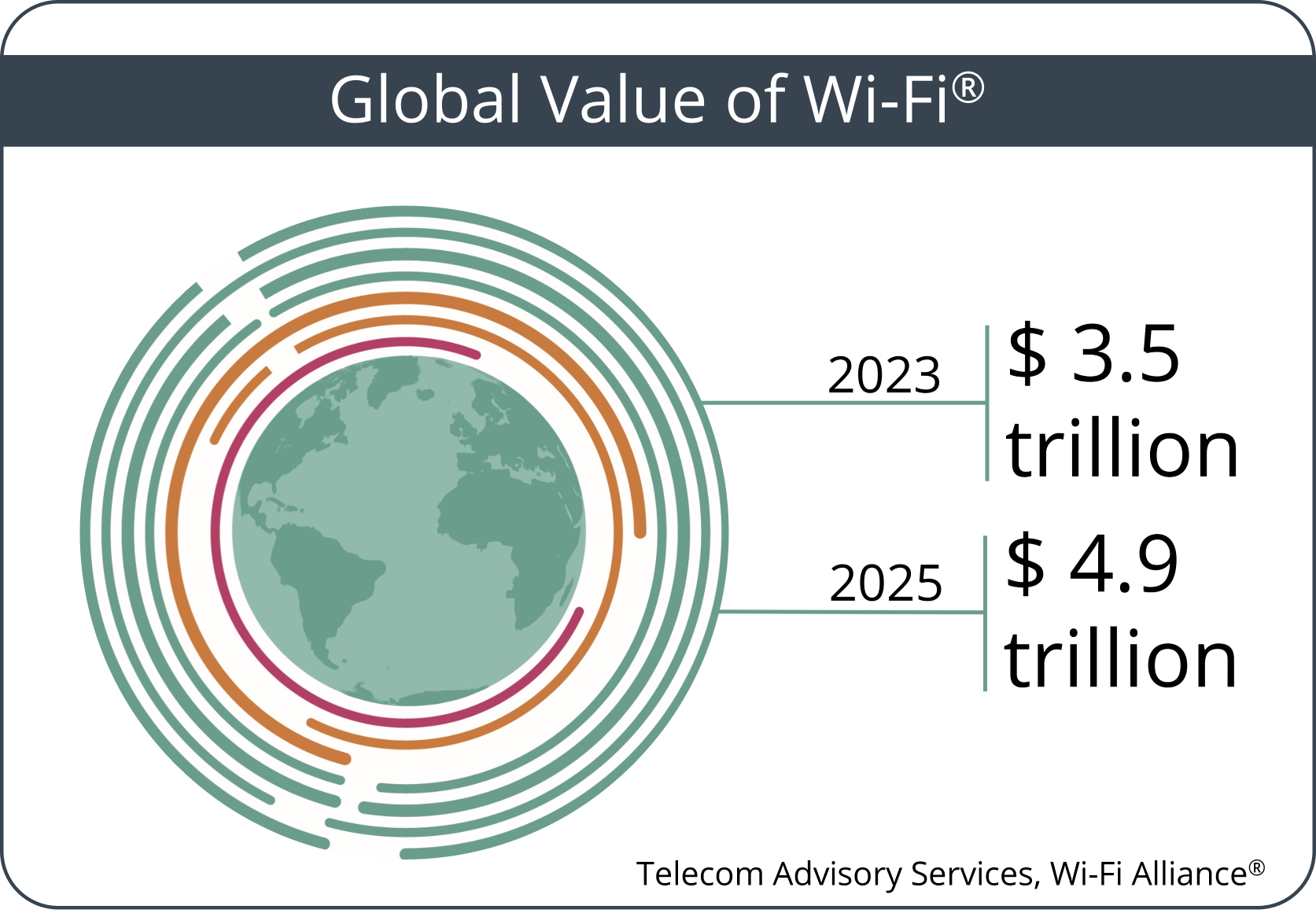 Due to its inherent strengths, Wi-Fi has proven to be a key driver of digital resilience and innovation, providing benefits for established and developing economies. Wi-Fi enables services for advanced applications and is a key component in global efforts to bridge the digital divide in rural and isolated geographies. It provides an important platform for free internet access in developing economies, making it critical to economic resiliency.
The combination of new technology and additional spectrum will help ensure Wi-Fi's value continues to grow in years to come—the advent of Wi-Fi 6 and access to the 6 GHz band has enabled a suite of advanced applications, some never thought possible before now. Constantly evolving improvements to Wi-Fi security, mobility, and ease of use contribute to bring the world closer to the goal of connecting everyone and everything, everywhere–making a day without Wi-Fi almost unimaginable.
The value that Wi-Fi brings to both societies and economies around the globe will continue to rise, as Wi-Fi is constantly innovating, providing solutions to meet the growing user demand and maintain quality connections wherever users go.