Wi-Fi 6
Next generation Wi-Fi® connectivity
Wi-Fi 6, based on the IEEE 802.11ax standard, enables next generation Wi-Fi connectivity. Wi-Fi 6 will provide the capacity, coverage, and performance required by users—even in dense environments such as stadiums and other public venues. Wi-Fi 6 networks enable lower battery consumption in Wi-Fi 6 devices, making it a solid choice for any environment, including smart home and IoT uses.
Key benefits of Wi-Fi 6 technology include:
Higher data rates
Increased capacity
Good performance in dense environments
Improved power efficiency
Wi-Fi 6 provides the foundation for a host of existing and emerging uses from streaming ultra high-definition movies at home or on the go, to mission-critical business applications requiring high bandwidth and low latency, to staying connected and productive while traversing large, congested networks in airports and train stations.
Innovation and performance in challenging environments
The ubiquity of Wi-Fi and its ability to complement other wireless technologies helps bring the promise of constant connectivity closer to reality. It also creates very diverse and densely populated Wi-Fi environments, requiring technological advances to meet the needs of users. Wi-Fi 6 brings improvements to current features of Wi-Fi, as well as new features that provide additional benefits.
New capabilities:
Uplink and downlink orthogonal frequency division multiple access (OFDMA) increases efficiency and lowers latency for high demand environments 
1024 quadrature amplitude modulation mode (1024-QAM) enables peak gigabit speeds for emerging, bandwidth-intensive use cases 
Improved medium access control (MAC) control signaling increases throughput and capacity while reducing latency 
Increased symbol durations make outdoor network operations more robust
Upgrading to Wi-Fi 6 technology will bring enhanced performance to users in smart home environments supporting multiple Internet of Things (IoT) devices per user, as well as to businesses and operators running large-scale deployments. Wi-Fi 6 brings more capabilities to support next generation connectivity uses.
Wi-Fi generations
Identifying device technology
To help users identify devices that provide the latest Wi-Fi experience, Wi-Fi Alliance has introduced simplified generational names that may appear in device names and product descriptions. Wi-Fi devices supporting the latest generation of connectivity are based on the 802.11ax standard and are known as Wi-Fi 6 devices.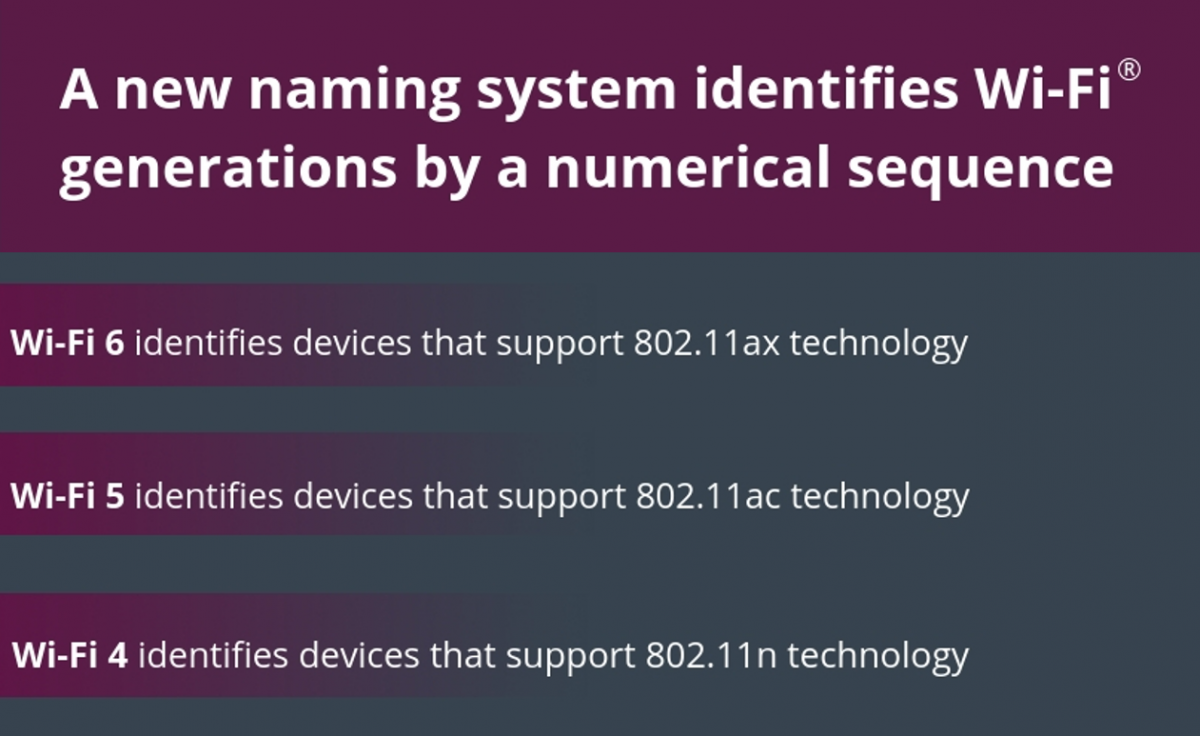 Identifying network connections
Wi-Fi devices may also use a user interface (UI) icon on the display to identify the generation of a network connection. The icons will display a Wi-Fi signal indicator and a numerical representation of the connection. Icons will adjust as users move between Wi-Fi networks that provide a different user experience. When a user device displays a signal indicator icon accompanied by the number 6, indicating a Wi-Fi 6 connection, that device is utilizing the most advanced version of Wi-Fi available.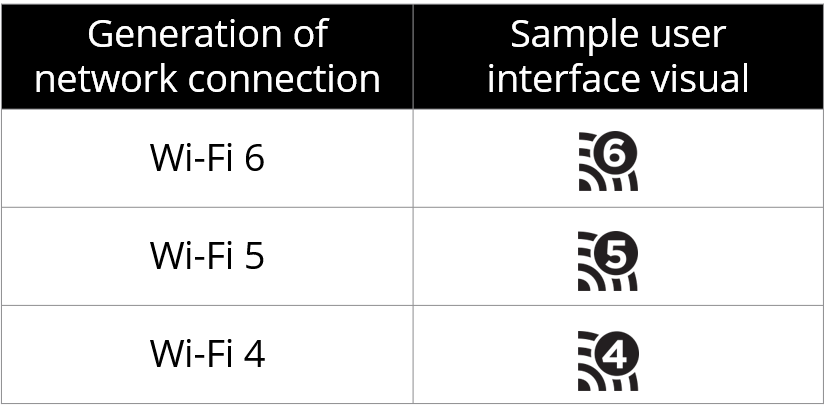 Download Additional Resources