Wi-Fi® is an essential IoT enabler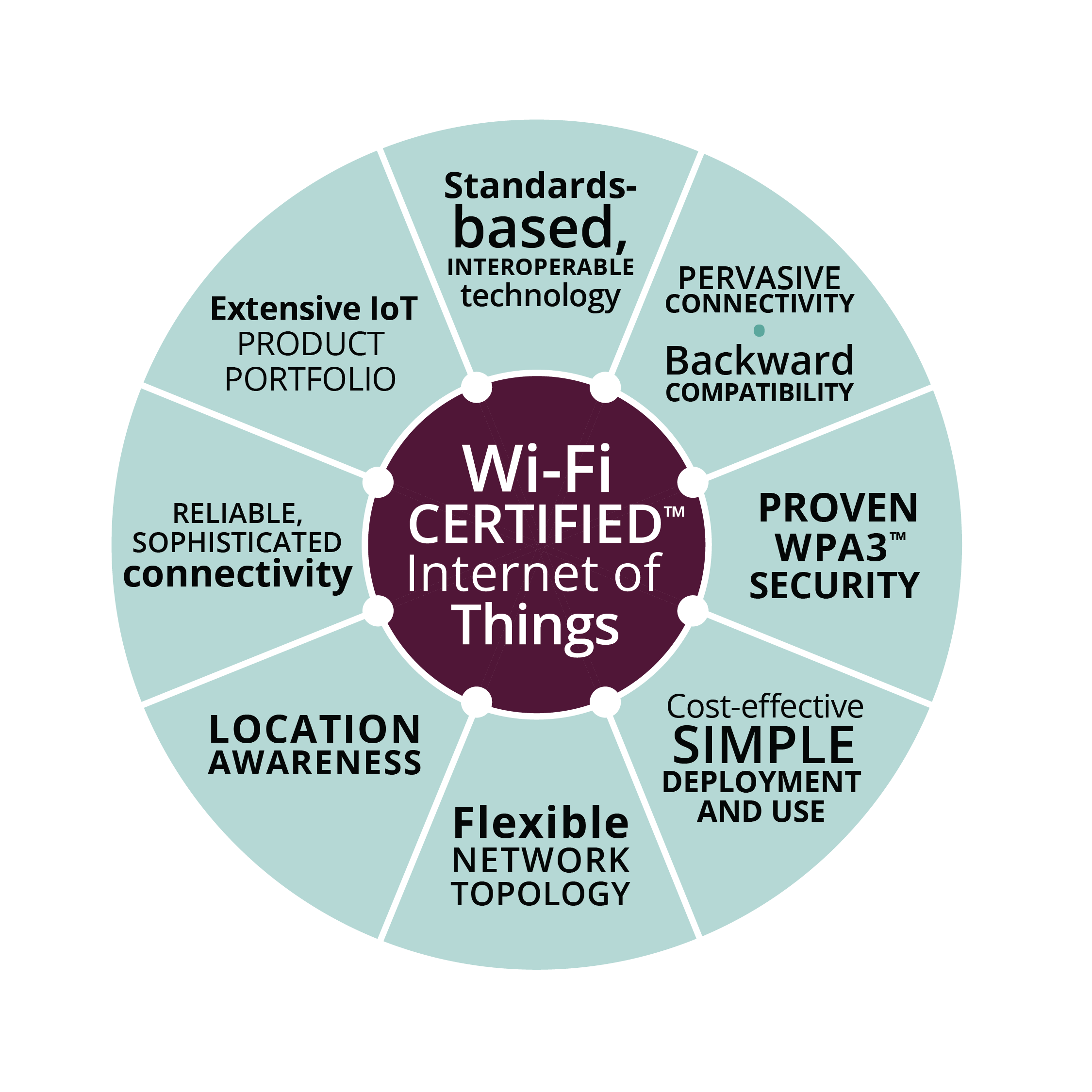 Wi-Fi has played a foundational role in delivering IoT innovation, providing pervasive connectivity to connect a wide variety of "things" to each other, to the internet, and to 19.5 billion Wi-Fi devices in use around the world. The economic potential of the Internet of Things is boundless, and Wi-Fi delivers a vast range of opportunities across a variety of sectors including smart homes, smart cities, automotive, healthcare, enterprise, government, and industrial IoT environments.
Wi-Fi enables users to automate their smart homes and connect a wide variety of connected household objects, monitor supply chains and other critical functions in real time in industrial facilities, and unlock business value by increasing productivity and efficiencies for both enterprises and hybrid-work scenarios. Integration and interoperability delivered by Wi-Fi will enable IoT solutions to securely interconnect to one another and to billions of user-centric devices to unlock the greatest value from IoT applications and environments.
Wi-Fi delivers a strong IoT advantage
Wi-Fi is one of the most widely used technologies around the world, and integration with existing Wi-Fi networks, a wide-ranging technology portfolio, and a strong legacy of interoperability make it an obvious choice to unlock the greatest value from IoT. Wi-Fi will play a role in almost every IoT environment, either alone or alongside more specialized protocols or technologies. Several unique competencies that uniquely position Wi-Fi for IoT include:
Standards-based, interoperable technology: The promise of IoT is founded on a wide range of device manufacturers. Wi-Fi provides a common platform to deliver a growing range of IoT applications that vary in performance, power, and latency requirements. Wi-Fi CERTIFIED™ delivers confidence that billions of devices will interoperate and provide a quality user experience regardless of product brand.
Pervasive connectivity: IoT systems are often controlled through mobile devices, and Wi-Fi allows seamless control of smartphones, tablets, and 19.5 billion Wi-Fi devices already in use today to help unlock the full potential of the IoT. Pervasive global connectivity empowers users and network operators to connect and control a unified system.
Proven WPA3™ security: Sensitive government, industrial, and personal information is exchanged through IoT applications. Wi-Fi delivers proven, WPA3™ security to protect information exchanged in personal and enterprise environments. Choosing Wi-Fi CERTIFIED IoT devices ensures data is protected with the latest, enterprise-grade security protocols.
Cost effective, simple deployment: Wi-Fi is an easy-to-deploy and cost-effective foundation that requires no separate gateways or specialized skills to deliver IoT applications. Wi-Fi is relied on and deployed by users worldwide every day, and continues to evolve to simplify device pairing, network authentication, and more.
Backward compatibility: Wi-Fi is a smart investment for IoT product architects who consider cost, reliability, and support in future-proofing their technology investment. Wi-Fi will stand the test of time which minimizes the risk of premature obsolescence and ensures legacy devices can easily connect to home networks.
Location awareness: Wi-Fi Location™ delivers sub-meter-level location information that allows a range of location-aware IoT services for industrial and smart city environments, enabling enhanced benefits such as asset management, network management, and geo-fencing.
Reliable, sophisticated connectivity: Home and industrial IoT networks require consistent and reliable connectivity. Wi-Fi 6 networks deliver sophisticated network efficiency, diagnostics, management, and optimization capabilities. Wi-Fi 6 and Wi-Fi 6E handle multiple simultaneously connected devices and heavy data throughput while delivering high performance and low latencies for applications including 4K video streaming and AR/VR. Wi-Fi 6 and Wi-Fi 6E also allows devices, such as manufacturing robots, and drones, to remain connected even as they move or "roam" throughout home or industrial networks.
Flexible network topology: In addition to a traditional Wi-Fi connection through access points, Wi-Fi CERTIFIED EasyMesh®, Wi-Fi CERTIFIED Wi-Fi Aware™, and Wi-Fi CERTIFIED Wi-Fi Direct® offer a variety of network topologies to different IoT environments for scalable and customizable options to meet IoT network and IoT application needs. Wi-Fi offers more flexible topology options to network managers for IoT network connections than solely star or mesh topologies.
Wi-Fi's extensive portfolio addresses IoT use cases that support high throughput and low latency applications, such as AR/VR, and long range, low power requirements for asset tracking applications or rural irrigation systems. Wi-Fi Alliance certifications, including Wi-Fi CERTIFIED 6®, Wi-Fi CERTIFIED HaLow™, Wi-Fi CERTIFIED Easy Connect, and Wi-Fi CERTIFIED QoS Management deliver capabilities to meet unique IoT requirements across residential, industrial, and other IoT environments.
The enormous potential of the IoT market has resulted in devices brought to market without sufficient testing, delivering a less-than-optimal user experience. Wi-Fi CERTIFIED devices meet high quality standards for security, interoperability, and a range of application-specific protocols to deliver a good experience for users and network operators.